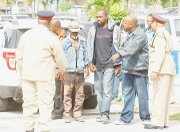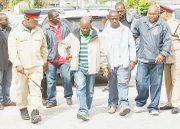 By LAMECH JOHNSON
Tribune Staff Reporter
ljohnson@tribunemedia.net
FOUR men from Bimini appeared in Magistrate's Court yesterday, accused of conspiring to possess and import nearly $3 million worth of marijuana found at sea two weeks ago.
Dion Moss, 49, Pedro Dean, 32, Elvis Rolle, 54 of Bailey Town, and Denver Martin, 40, of Port Royal, plead not guilty before Deputy Chief Magistrate Carolita Bethell.
They faced a charge each of conspiracy to possess dangerous drugs with intent to supply and conspiracy to import dangerous drugs.
It is claimed they committed these crimes between December 1, 2012 and February 12, 2013.
On February 12, police and Defence Force officers found the drugs on a beached vessel in North Bimini.
They will stand trial before the deputy chief magistrate on October 10, 2013.
Martin is represented by attorney Jerone Roberts while the remaining defendants have retained Stanley Rolle.
Shortly after these men were arraigned and escorted from court, a Jamaican plan who pleaded not guilty to possession of dangerous drugs with intent to supply three weeks ago, decided to change his plea.
Barrington Robinson, 48, of St Thomas, Jamaica, who claimed to be under duress on during the initial arraignment on February 5, had pleaded not guilty on February 7.
However in yesterday's proceedings, when he along with countrymen Roger Williams, 33, of Kingston; Christopher Salmon, 44, of Westmore; Kirk Wilson, 33, of St James; and Suszanna Latouche, 46, of Kingston, were re-arraigned on the charge, as were Haitian national Junior St Jean, 22, of Carmichael Road; and Bahamian Richard Johnson, 42.
Robinson pleaded guilty.
It is claimed that on February 2 in Freeport, Grand Bahama, they were in possession of dangerous drugs with intent to supply.
The seven defendants, driving in a van, were pulled over by Mobile Division police officers near Harbour Shopping Centre.
A search turned up 14 pounds of marijuana in two separate packages.
Unlike the previous arraignments, in which he on four occasions switched his plea from guilty to not guilty and back while explaining that the drugs were stashed in his bag by the men he paid $8,000 to in order to be smuggled into the US, the St Thomas Moore native answered "guilty".
He said that he knew of the drugs in the luggage and was supposed to travel to the US and give the marijuana to someone.
Deputy Chief Magistrate Bethell accepted his guilty plea and formally convicted him of the offence. She told him that he would receive the minimum sentence of four years, as mandated by a recently amended law.
Robinson said he was concerned about not being able to see his wife and child who were in Jamaica.
The judge said if he felt strongly about this, he could write a letter to the Attorney General asking to have the rest of his sentence served in Jamaica.
ASP Ercell Dorsett withdrew the charges against all the other defendants except for Richard Johnson.
Johnson was remanded to prison until the completion of his trial, which starts on June 21.
The remaining Jamaicans awaited the arrival of Immigration officials who were to detain an deport them.