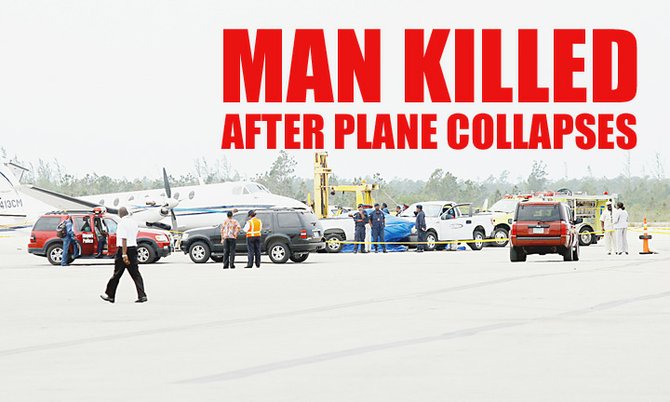 By SANCHESKA BROWN
Tribune Staff Reporter
sbrown@tribunemedia.net
A MAN was killed at the Lynden Pindling International Airport yesterday after the landing gear of a plane he was working on collapsed, crushing his skull.
It happened around 9:45am at the Domestic Section of the LPIA.
Assistant Police Commissioner Hulan Hanna said police initially got word that a car had crashed into a plane in the domestic section of the LPIA, however when officers arrived they discovered the man pinned under the left wheel of the aircraft.
"What we do know is the individual was working on the left side of the aircraft when the left landing gear collapsed pinning him to the bottom. Sometime after a local nurse from the Princess Margaret Hospital, who is attached to the airport, examined the body and pronounced him dead at the scene. He has some injuries to the right side of the head in the area of the ear and to the top of his head," he said.
"He is a Caucasian male believed to be in his early 40's from Florida. At the time he was clad in a pair of black cargo shorts, a navy green tee-shirt and wearing a pair of black tennis shoes with white ankle socks. The aircraft is owned by persons from the Florida area and at the time it was being leased by a company out of Grand Bahama."
ACP Hanna said the plane, a Beech 1900 19 seater, was at LPIA for its regular inspection.
He said the freak accident, caused minimal interruption at the airport as police rushed to secure the area and prevent incoming passengers from seeing the horrifying scene.
An airport worker, who wished to remain anonymous, said she could see the accident about to happen but knew there was nothing she could do about it.
She said: "I could see the plane shaking from where I was. It's like the whole thing happened in slow motion. He was under the plane working then boom, it fell and you just knew he was dead. It was a horrific thing to witness. I would never want to see something like that again in my life."
Police have not officially identified the victim, but the Tribune understands he is Raymond Charron of Pembroke Pines, Florida.
The Tribune attempted to contact representatives from Regional Air, but up to press time the calls were not returned.
The investigation is being conducted by the Royal Bahamas Police Force in conjunction with officers from the Airport Authority.
Investigations continue.