By ALESHA CADET
Tribune Features Reporter
acadet@tribunemedia.net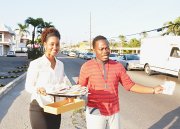 CAPTURING the attention of Bahamians through the use of loudly coloured murals across the island, the Ministry of Health's banana-themed campaign continues to promote safe sex under the message "Don't Get Caught Unpeeled".
The idea of the artwork was launched and organised by the National HIV/AIDS Centre, the Ministry of Health and PEPFAR. They commissioned community artists to design wall murals for high traffic areas in Fox Hill, Arawak Cay, Blue Hill Road and Mackey Street.
Since they were erected last week, the murals have already shown signs of having a positive impact, said organisers. The Blue Hill Road mural read: "You Only Have One Banana. Why Give Everyone a Piece?" The Arawak Cay and Fox Hill murals depict the main message: "Don't Get Caught Unpeeled". The Mackey Street murals read: "Give It Time To Ripe."
Dr Delon Brennen, deputy chief medical officer of the Ministry of Health said the banana-themed HIV prevention campaign is intended to promote condom use as a physical barrier to HIV transmission. The goal of the initiative is to reduce HIV transmission through an informative, engaging promotion that encourages safer sexual practices.
Paula Bowleg, PEPFAR programme manager told Tribune Health: "We thought the murals would have been a better way to really reach more of the masses, who don't really come in to attend the community outreach activities that we have."
"Now people can just drive by and see the murals. We have gotten feedback and it has been very encouraging. Persons have asked us where can they go to get tested and where can they come to get free condoms," said Ms Bowleg.
Maxine Seymour, PEPFAR media specialist, said the mural campaign is intended to take the campaign to the next level. She said by making the message more visible in high traffic locations, it is going to gain familiarity while promoting condom use.
"There are four different design layouts and each of the murals focus on one particular theme. Two of them are just on general condom use. One of them focuses on abstinence amongst juveniles and the other one focuses on multiple partners," said Ms Seymour.
At the four mural launches, Ms Seymour said members of PEPFAR gave out bananas and condom pouches to people in attendance and those passing by in vehicles.
"People have been super excited about the murals. What amazes me is how people speak openly about their sexual encounters and sexual activity, but reference themselves as a banana. It helps to break the ice so to speak, and make it easier for people to talk about their practices," said Ms Seymour.
 Ms Bowleg said the murals are appealing to the young and the old.
"The young, they are encouraged to remain abstinent. And for the old, it is reminding them to wear condoms and be careful when giving away their banana," she said.
Based on feedback Ms Bowleg said the Blue Hill Road mural has caught the attention of many seniors. "Persons of my age and in their late forties, early fifties, it is grabbing their attention more-so than the youth," she said.
At the Fox Hill Launch, Ms Bowleg said there was a lady who said " When I looked at that banana I didn't read anything else, but as soon as I saw 'don't get caught unpeeled' I understood what this is all about."
"She didn't bother to read all of the information, but the banana and the saying caught her attention. It is getting out and it is all about getting into the grassroot areas so that people can get the message," said Ms Bowleg.
Now that the murals have been unveiled, Ms Bowleg said she hopes the message will encourage those who are abstaining to continue, and those who have an alternative lifestyle to be careful.