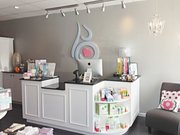 By JEFFARAH GIBSON
Tribune Features Writer
jgibson@tribunemedia.net
YOUNG mother Bianca Carter knows from her own experience that pregnant women require a high level of attention, love and support. And after giving birth to her XYZ children, she became inspired to improve the pregnancy experience for other Bahamian women.
"Women have a whole new set of needs, fears, and emotions when going through pregnancy and every pregnancy is different. It is essential that mothers get the support they require during this time. Some women rely on their doctors to alleviate questions or feelings, others have family and friends.
My thinking was, how great would it be, to be able to have a support system and networking resource filled with other women who are in the same position as you: A place to talk and vent, ask questions in a safe, non-judgmental, warm and inviting environment," she said.
The mother of two started Bun In the Oven to help women get through the birthing process. The business was designed to be a sanctuary for mothers, offering support and valuable information from experts on everything related to pregnancy and parenting.
Bun In The Oven hosts a number of informational classes and seminars such as infancy CPR, lamaze, breast-feeding and support groups. The group also promotes breast feeding and offers support tools that mothers need to meet breast feeding goals. They intend to eliminate misconceptions in regard to breast feeding.
Bianca said she desires for mothers to know all that there is to know about parenting, so they can make decisions that will benefit them and their babies.
"My family and my children motivate me. I have the desire to do right by them, and excel at what I do. I am passionate about babies and children and I would love to make a difference in their lives. Ultimately they inspire all that I do. They give me so much joy, and motivation and it inspires me to want to do my best, and make this world a better place in whatever way I can. If it is through supporting, educating and helping babies and mothers, I am fine with that," she told Tribune Woman.
Pregnancy and child birth are unlike anything a woman will experience in her life. During pregnancy women are sometimes bombarded with feelings of fear and uncertainty therefore they require adequate support to help them get through the process successfully.
"Support during pregnancy is a must. Pregnancy is a beautiful thing, but obviously there are outside factors that can effect a women's emotional wellbeing during pregnancy, and having the option to talk to other women who are pregnant about situations that are important to them, is empowering," said Bianca.
Apart from being a place where mothers can be empowered and share tidbits about their journey, Bun In The Oven also offers a number of organic baby products.
"Necessity is the mother of all invention. I had a very hard time finding good quality, safe, organic products for myself and my babies and I knew that I could not be the only one with that problem. I hated having to rely on flights to the US to get the products that I could not find here. I desperately wanted the convenience of being able to get the products here and support our economy. In addition, I realized how beneficial it would be to have a strong support system while going through pregnancy," she told Tribune Woman said.
In the near future she intends to introduce Bun in the Oven to the rest of the Caribbean.
"I am sure there are mommies and babies that need love and support there too. I also want to explore giving back to our nation and being a part of a programme that helps our children," she said.