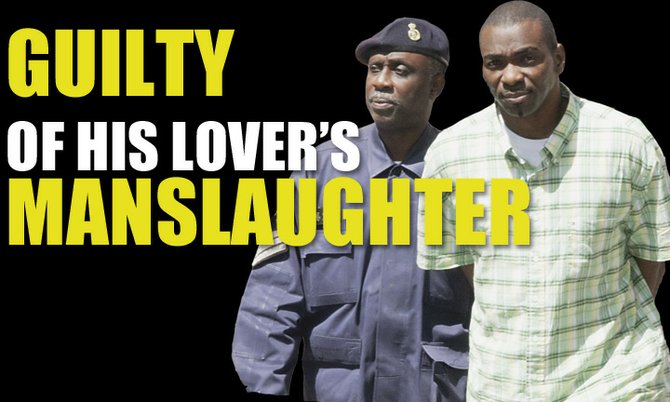 By LAMECH JOHNSON
Tribune Staff Reporter
ljohnson@tribunemedia.net
A MAN who faced up to 35 years in prison for the manslaughter of his 66-year-old Long Island lover was sentenced to 21 years in prison yesterday.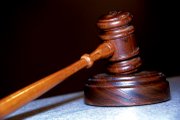 Adrian Robinson, 46, of Long Island, who said he was not a person incapable of being rehabilitated, asked Justice Bernard Turner for leniency in sentencing him, stating that although he was charged with murder, the jury had convicted him of manslaughter only because he had not taken Veronica Knowles to a physician on July 12, 2010.
However, Justice Bernard Turner said his actions on that day of leaving Knowles exposed on a dirt road, taking her car away and not notifying anyone of her whereabouts could not be ignored.
The judge commented that despite Robinson's "keen intelligence" the fact that he continued to have brushes with the law after serving 10 of 15 years for two armed robberies, meant that society needed to be protected from him.
The judge imposed a 21-year sentence and granted Robinson restitution of the $1,330 taken from him, which police claimed was a part of an armed robbery.
Robinson, who represented himself throughout the trial, was convicted of manslaughter on February 25 for the July 12, 2010 death of taxi driver Veronica Knowles.
Knowles' decomposed body was found in bushes at the Crossing in Long Island.
Robinson initially faced three charges – murder, armed robbery and stealing.
The jury returned a unanimous not guilty verdict with respect to those charges. However, they found him guilty of the lesser charge of manslaughter.
During the trial, Robinson denied the alleged confession statement that the Crown produced, but did admit that he choked Knowles.
He said Knowles, with whom he had sexual relations and for whom he worked, died suddenly when they were together at The Crossing on the day in question.
He said he put her body about 11 feet off the road in bushes before driving her taxi back to her home. He denied taking money from a compartment in the vehicle. His sentencing was deferred to March 4.
In yesterday's proceedings, an antecedent record was produced where it was revealed that Robinson had been convicted in the Supreme Court of armed robbery and sentenced to 15 years behind bars.
Robinson said he pleaded guilty to another armed robbery charge in 1999 and received 12 years to run concurrently with the existing sentence.
Upon his release in 2007, Robinson had been arrested on smaller charges and convicted of causing a wound.
When asked if he had anything to say, Robinson asked the court to bear in mind that this was not a case in which someone was murdered and the murder charge did not stand because there was no evidence of physical harm done to Knowles, as substantiated by pathologist Dr Caryn Sands.
He said he was unanimously acquitted of the initial three charges and was convicted of manslaughter because he did not take Knowles to see a physician.
He said if she had been found at home dead, it is likely that he would not have been before the courts.
He asked the court for leniency and claimed that his antecedents do not reflect the person he is today.
Robinson further argued that the $1,330 taken from him should be returned.
In response to the plea in mitigation, Crown prosecutor Sandradee Gardiner noted that the sentencing range for this jurisdiction, as guided by the Court of Appeal based on recent rulings, is 18-35 years at Her Majesty's Prison.
She noted Robinson's antecedents and the fact that the jury, although it did not convict him of murder, convicted him of manslaughter because they believed he had caused Knowles' death.
The prosecutor contended that remorse had yet to be shown by Robinson who continues to maintain his innocence and even though he said sorry, saying sorry did not amount to remorse.
Ms Gardiner added that the court must also take into account the manner in which Knowles was left.
The prosecutor concluded that a man of his age, instead of trying to do good things in society, continued to being a menace to society after his release from prison.
Justice Turner, in response, noted that the case, from all appearances and the evidence, was one of a domestic nature.
He said the jury's verdict that acquitted him of the initial three charges, but convicted him of manslaughter, says that they accepted his police statement in full.
The judge said Robinson demonstrated keen intelligence in representing himself throughout trial and it was unfortunate that he spent a number of his years facing serious charges.
"Your age is not a mitigating factor. Your previous convictions are not mitigating factors," the judge said.
"Mr Robinson, I don't know whether the prison is capable of rehabilitating you. But society ought to be protected from you," said Justice Turner.
The judge said his actions on that day of leaving Knowles exposed on a dirt road, taking her car away and not notifying anyone of her whereabouts could not be ignored.
The judge imposed a 21-year sentence to run from the date of conviction. Robinson was told that he had a right to appeal both the jury's conviction and subsequent sentencing.