By BRENT STUBBS
Senior Sports Reporter
bstubbs@tribunemedia.net
IN just five years, Dawnita Jones-Fry has become one of the household names on the local bodybuilding scene. Now she's making even bigger strides on the international scene.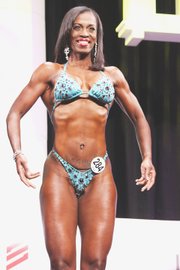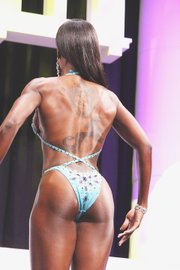 Jones-Fry was the lone Bahamian competitor in the 25th IFBB Arnold Classic at the Veterans Memorial Auditorium in Columbus, Ohio, over the weekend. She made it to the top 10 final of the amateur Figure Tall category. However, she didn't advance to the top five.
"While I didn't make the top five, I was just so happy to be a finalist," Jones-Fry said. "I made huge improvements to my physique and was happy with the outcome. I was in an impressive group of women, all of whom performed at their very best."
Pre-judging was held last Thursday, but with over 600 competitors in the various divisions of bodybuilding and fitness combined, Jones-Fry said she didn't actually get a chance to hit the stage until around 11pm before she came back on Saturday to compete with the top 10.
"It was just a great experience making it to the top 10 because those girls were really good," Jones-Fry said. "You're talking about the best of the best in the world that are a part of the IFBB, which is the elite federation for bodybuilding in the world. So it was a good experience and I enjoyed it."
Jones-Fry, a member of Team Bombshell, a club that is based in the United States and coached by IFBB pro Gennifer Strobo – she ended up eighth in the pro segment of the Arnold Classic, said the event has certainly given her a new perspective of the sport.
"The first show is usually the tip-off, but I only had about six weeks to prepare," Jones-Fry said. "I had to work really hard because I had to go all out because six weeks is not a lot of time to prepare for an event like this. It was a very good show and I really enjoyed myself. It was even more encouraging for me when I saw the Bahamian flag flying on the street. I had a really good time and the experience was really priceless. I hope I get invited to do it again. It was really good."
Jones-Fry is now preparing for the Bahamas Bodybuilding and Fitness Federation's National Championships in June or July and to eventually represent the Bahamas at the Central American and Caribbean Championships to be staged in the Dominican Republic in September.
"Because of my height, I already put on some weight. I went on stage at about 147, compared to last year's CAC where I was 139," said the six-foot, 11-inch Jones-Fry. "But I have to develop my quads a little more. My coach has given me a few days just to rest and regroup.
"So when I go back to the gym, I'm just going to go heavy with the squats because my legs are very long. Even in my category, the girls are very tall. A girl under me will be about 5-9, so I'm still standing very tall among them. My shoulders are also very broad. So I'm going to try and work hard on building up my quads. Once I get them under wraps, I will be ready to go again."
Although she was the only Bahamian competing in the event, Jones-Fry said she heard Wellington "Cat" Sears' voice in the stands cheering her on, which was inspiring for her as some type of support.
"I was nervous because the Bahamas is so small, even when you compare us with the other Caribbean countries like Jamaica, Barbados and Trinidad, who had some people there competing with their federations represented," said Jones-Fry.
"But it was a proud moment being the only Bahamian and being on the stage in the final. Some people were wondering if I was not intimidated, but I just said that they were other female competitors too who have the same challenges that we do. It's just that you have to be ready to work hard and don't take no for an answer and just go hard out there. In most cases, I was older than most of them so I don't regret anything."
A former teacher at Xavier's Catholic School, Jones-Fry has obtained her professional certification as a fitness instructor and she's currently pursuing another one in dieting and nutrition. She's expected to move very shortly to the US to continue her quest to become a pro fitness competitor.