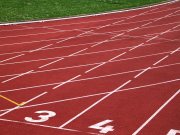 By RENALDO DORSETT
Sports Reporter
rdorsett@tribunemedia.net
WHILE several regional powerhouses hosted their Carifta Track and Field Trials this weekend, the Bahamas will have to wait until March 17 to learn the members of one of the most eagerly anticipated Carifta teams in recent memory.
The BAAA will host the Carifta Trials March 15-16. Team Bahamas is expected to be announced on March 17.
Trinidad and Tobago, along with perennial Carifta champions Jamaica, hosted their trials last weekend, well ahead of the games scheduled for March 29 to April 1.
BAAA president Mike Sands said it gives the Bahamian athletes an advantage headed into ther trials, knowing the standard that their regional counterparts have set.
"We saw the times the athletes ran at the trials in Jamaica and Trinidad and Tobago had their trials this weekend as well, and we will print those results out and show our kids the marks they have to shoot for," he said.
"We think it is an advantage that they see what people are doing around the region, particularly in Jamaica. Of course Jamaica is the benchmark as the perennial champions and that is what we are trying to get to this year, but I think it's a good thing that our kids get to see what other countries around the region are doing headed into their trials."
The GSSSA hosted its annual meet last week with junior and senior high schools and the BAISS is currently hosting their championships.
"Traditionally we always host our trials two weeks before the meet. We do not want the athletes to peak too early, in terms of timing we have discovered that the system works well doing it in this manner," Sands said. "The road to this began some time ago, but it will be March 15-16 when the BAAAs will host its Carifta Trials to select its team. On the 17th, the team will be announced and the council members of the BAAAs are also planning activities, including a pep rally and float parade to announce and introduce Team Bahamas to the country."