By LAMECH JOHNSON
Tribune Staff Reporter
ljohnson@tribunemedia.net
EIGHTY per cent of malpractice claims commenced in court since 1980 have not been completed, a lawyer revealed yesterday during a case study presentation at a medical conference.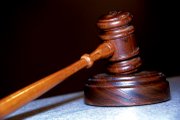 Revealing the findings at the Medical Association of the Bahamas Conference at the British Colonial Hilton, Giahna Soles of Graham, Thorton & Co said that of the 167 cases before the Supreme Court concerning claims of medical malpractice between 1980 and 2013, 134 of those matters have not been completed based on the information collected from the Supreme Court registry.
"So out of 167 matters that we were able to collect information on, 134 were incomplete, and that's over a 33-year period. For us attorneys, this is ridiculous and unacceptable," she said.
"We also found for the matters that had been settled and had been closed by the court or settlement, it took about two to four years for completion. The average time it's taking is increasing."
Ms Soles admitted that the information at the registry was "not as complete" as the researchers would've liked, but "from this information, we abstracted the field of medicine that the case dealt with, the date of the incident, the date of commencement of the proceedings, the successful party, whether the matter was settled and the main reason for the claim."
"One claim was commenced in 1980. There are about 13 claims commenced in 2012. No further claims for 10 years after 1980. From 1990-1999 there were 10 claims. From 2000-2010, 125 matters were commenced. Can we safely say that it's on the rise?"
The fields of medicine with the highest claims of malpractice, according to the study's findings, are Obstetrics/Gynaecology, Surgery, Orthopaedic Surgery and Administration.
Ms Soles, however, said that there were some limitations to the study.
"It's not comprehensive. We weren't able to obtain cases against individual doctors where the hospital was not joined or the PHA was not joined."
The study does not include cases that may have commenced and may have been settled, nor does it include cases that were just claims that did not commence because it was settled before reaching court.
"The information at the registry was not as complete as we would've liked," she noted.
When asked if there was a time limit on how long claims could be before the courts if nothing is happening with the case, Ms Soles said "there's no legislation"  in that regard.
"Your defence attorney will commence actions that says this case should be struck out for want of prosecution, that this dragged on too long, witnesses' memories have faded. You have to plead a case for that," she explained.
Regarding the question of costs following the outcome of claim, Ms Soles noted that while generally the losing party will pay the cost of the proceedings, "the court had the discretion to determine who will pay the fees."