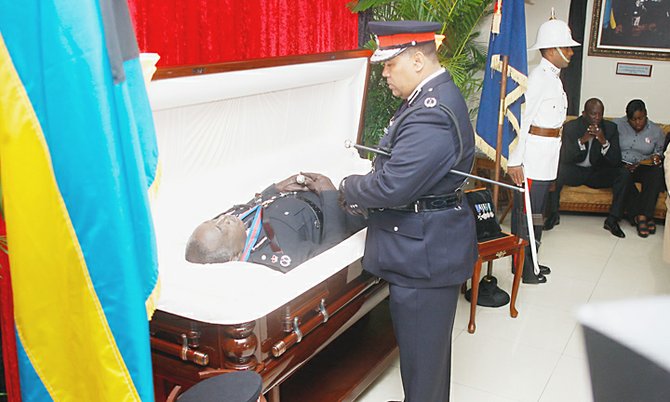 By DANA SMITH
Tribune Staff Reporter
dsmith@tribunemedia.net
A NUMBER of politicians arrived at Police Headquarters yesterday morning to pay their respects to former Police Commissioner Bernard K Bonamy as he lay in state at the Paul Farquharson Centre.
Among them was Prime Minister Perry Christie who made brief remarks after viewing the body and meeting with Mr Bonamy's wife and family. He described Mr Bonamy as a man who has "given much to the country."
Mr Bonamy died at the age of 67, two weeks ago, in the Princess Margaret Hospital after being admitted with "a low pulse".
Mr Christie noted Mr Bonamy's "humble beginnings" at Arthur's Town, Cat Island and praised his many achievements during his life, including becoming Police Commissioner, "continuing to contribute" to the country as secretary to the Gaming Board, and being called to The Bahamas Bar.
"He has done so much," Mr Christie said. "It's just wonderful to see. He set a very, very good example for new generations of Bahamians who will come to understand the meaning of his life and to know that they, themselves – notwithstanding small beginnings – can think big, dream big, and achieve big. And that's really the story of his life."
The prime minister also praised Commissioner Ellison Greenslade for paying such a tribute to Mr Bonamy.
"We really wanted to pay tribute to him (Mr Bonamy) and to the Commissioner for continuing to understand that even after a police officer has finished his tour of duty, he is still a police officer; and by any definition, the commissioner of police must continue to demonstrate to those officers who have retired, to their family members, and to the people of their country that once someone has given the best of their service to the Royal Bahamas Police Force, the Royal Bahamas Police Force will continue to honour them for the rest of their lives," he said.
Mr Greenslade conveyed his "sincerest condolences" to the family of Mr Bonamy on behalf of the Force and said the RBPF is committed to "add value to the legacy" that Mr Bonamy worked "so hard" to maintain and build.
"It is not difficult to remind ourselves that doing what is right and decent is very easy," Mr Greenslade said. "And so we remind ourselves in a very public way this morning by turning up in our Number One Dress – all of us, deputy commissioner, all assistant commissioners, and indeed all of the rank and file – to join Mrs Bonamy and her children here at Headquarters: a place where her beloved husband, their dad, spent the majority of his young life."
Mr Greenslade said police wish to "welcome (Mr Bonamy) back home with distinction" and to demonstrate "the measure of their love and support" for him and his family.
Also paying their respects, yesterday were Deputy Prime Minister Philip "Brave" Davis, Attorney General Allyson Maynard-Gibson, National Security Minister Bernard Nottage, Tourism Minister Obie Wilchcombe, National Security State Minister Keith Bell, Senator Heather Hunt, and Senator Desmond Bannister.
Funeral services for Mr Bonamy will be held at 11 am tomorrow at St Francis Xavier's Cathedral on West Hill Street. Interment will follow in Lakeview Memorial Gardens, John F Kennedy Drive and Gladstone Road.