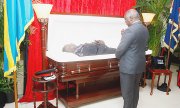 FORMER Commissioner of Police Bernard Kenneth Bonamy "heeded the call to national service and stood strong and dedicated, guided by that call to the very end," Deputy Prime Minister Philip Davis said.
During a Memorial Service for Mr Bonimy yesterday, the Deputy Prime Minister said the Bahamas lost a "true soldier" on February 22. Mr Bonamy was 67.
Mr Davis described the former commissioner as ambitious, courageous, disciplined, strong, visionary, inventive, creative and imaginative.
He added that Mr Bonimy held true to his native Cat Island roots, "with what many described as an indomitable spirit that drove him to the zenith of his career".
"BK, as we affectionately called him, was a policeman's policeman.
"He was the lawman who not only upheld the law, but he knew the law."
Mr Davis said Mr Bonimy's zeal for education fuelled his determination to study the law, taking his LLB degree in 1978.
"His quiet, humble, debonair Bahamian spirit was clearly evident. "He was a soldier, not just in the military sense, but a real Bahamian soldier – proud to be a part of our Bahamaland and proud to represent the same all over the world."
He also noted that Mr Bonamy ate, slept and lived law enforcement.
"In fact, BK really never left the Royal Bahamas Police Force. The national security of Bahamians was always on his mind."
The Deputy Prime Minister said 10 days before his death Mr Bonamy sent him an email giving advice on Urban Renewal and sharing ideas about how to move the programme forward.
"He was excited by the idea of civilians working along with officers. He believed it was the right formula to combat crime.
"BK yearned for a crime-free society and worked towards achieving that goal, inside and outside of the walls of the police force.
"He was a no-nonsense type of man and when he showed you a smile on that rare occasion, you knew it was a genuine gesture."
Speaking of the former Police Commissioner's character, Deputy Prime Minister Davis said, "Some would say the longest serving Commissioner of Police was a human lie detector.
"He needed no machine to detect the truth or a lie coming from a human being and because of this, many shuddered to be in the front of him and made it easy on themselves by being up-front, quickly confessing whatever they knew about a crime."
Mr Bonamy enlisted into the Royal Bahamas Force on June 17, 1963 and served with distinction for 38 years.
A native of Arthur's Town, Cat Island, Mr Bonamy rose from the rank of Constable to the prestigious position of Commissioner of Police; an office he dutifully held for 14 years during the period 1987 to 2001.
He was the longest serving Commissioner in an independent Bahamas.
During his career, Mr Bonamy received numerous awards and honours.
In 1985, Her Majesty Queen Elizabeth II named him Lieutenant of the Victorian Order (LVO), and in 2000, he received the Queen's Police Medal (QPM).
He leaves behind his wife Shirley, five sons and two daughters.