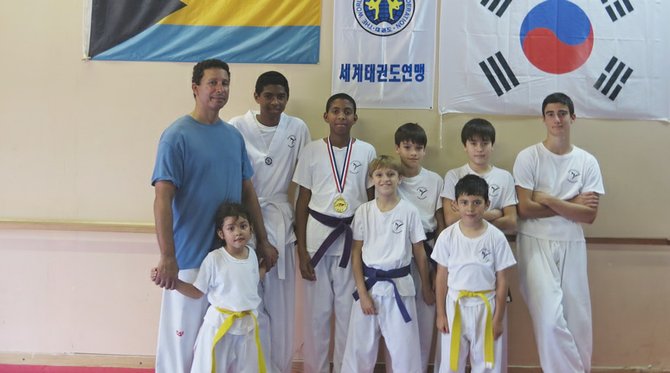 By BRENT STUBBS
Senior Sports Reporter
bstubbs@tribunemedia.net
WITH the focus on trying to get young Bahamians qualified to compete in taekwondo for the Central American and Caribbean Games to the Olympic Games, the Ba-Do-Jang School of Tae-Kwon-Do got its feet wet at the 2013 Winter Games in Miami, Florida, last month.
Head coach Robert Butler, a former top cyclist, said he was quite pleased with the performances turned in by the four-member team in their debut at the tournament that attracted more than 1,000 athletes from the Bahamas, US and Nicaragua.
Nathan Holdom, a brown belt in the boys' 14-year-old division, posted a first place finish, Christopher, a purple belt in the boys' 12, also got first, while purple belt Anthony Holdom got second in the boys' 11 and Luke Holdom, another purple belt, was second in the boys' 8.
"I was pretty excited about it," said Butler about the team's performance.
"The kids were pretty excited about it. I didn't get as many kids as I expected for various reasons, but for those who did good, I think they all performed very well. Hopefully the next time around, we will get more competitors to travel."
Despite the small group of representation, Butler said the competitors did very well.
"We competed in the weapons, breaking, forms, fighting, etc, in all ages," Butler said.
"The youngest person in the tournament must have been about three years old and the oldest person was in their 50s. It was called the Winter Games because everybody was pretty much just getting their season going. It was one of the bigger tournaments held in the Miami area for the year. It's an every year thing, but this is the first time that anybody competed from the Bahamas in the tournament. We have to do a lot of travelling in order to get in the competition."
Butler said Nathan Holdom is performing exceptionally well right now and within a year or so, he anticipates that he will receive his black belt and should be in a position to contest for a shot at the CAC Championships as he begins his quest towards the Olympics.
At the end of the month or by the beginning of April, Butler said he's looking at taking some of his students to Jamaica for a training session there at a proposed seminar that will include a number of other Caribbean countries.
In the meantime, Butler said it's back to the drawing board.
The Ba-Do-Jang School currently holds classes every Monday, Tuesday and Thursday.
Interested persons can contact Butler at 326-1744 or 428-8824.