By LAMECH JOHNSON
Tribune Staff Reporter
ljohnson@tribunemedia.net
AFTER a man was acquitted in the Supreme Court of an Eleuthera home-invasion and murder, relatives of the 66-year-old female victim are blaming the police's "sloppy investigation" for the fact that her killer is still at large.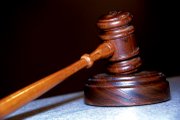 Speaking to The Tribune after 47-year-old Livingston Taylor, of Nassau Village, was acquitted of murder, robbery and burglary charges concerning the October 7, 2007, death of Agnes Sylvia Cates, the family's spokesperson, David Cates, lashed out at police.
"They did not wish to hear what I had to say. They refused to look at leads. My family has written to the Attorney General's Office and we have asked for a full investigation of what happened in the investigation, and I would expect to have an answer to that," the victim's eldest son said.
Taylor was accused of breaking into Cates' Rock Sound home on October 7, 2007, murdering her, and robbing her of her vehicle.
Mrs Cates was found bludgeoned to death in the bedroom of her home.
Taylor denied the charges and represented himself throughout a trial, which included DNA specialist Kevin Noppinger saying that blood found in Cates's car belonged to Taylor.
Taylor claimed police planted the blood.
Last Friday, presiding judge Justice Roy Jones, summarised the evidence in the case before excusing the 12-member jury to deliberate on the verdict.
After more than two hours, the jury returned with 11-1 not guilty verdicts on all three charges, resulting in Taylor's acquittal and subsequent release as he had no other matters before the courts.
After Taylor's relatives left the court, they praised God for answering their prayers, though they declined to comment further.
Mr Cates said the fact that whoever killed his mother is still free has been disheartening for the community, because she had done so much for Rock Sound.
He noted that the police also honoured her for her involvement in and support of their summer camps, where she planned the arts and crafts projects that the children worked on.