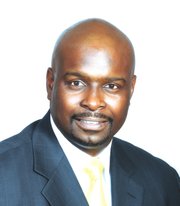 By NATARIO McKENZIE
Tribune Business Reporter
nmckenzie@tribunemedia.net
THE Government will allow exploratory drilling to determine whether there are commercial quantities of oil in the Bahamas prior to any referendum, a Cabinet Minister said yesterday.
Kenred Dorsett, minister of the environment and housing, said it was unlikely that there would be any referendum on oil exploration in the Bahamas prior to the 2015 second half.
"The fact that oil exploration is being pursued so seriously and systematically in such very close proximity to the Bahamas dictates that we hasten our own decision making process as it pertains to oil exploration and environmental regulation here in the Bahamas," Mr Dorsett said in a statement released yesterday.
"Accordingly, my Ministry, supported by the Office of the Attorney General, has prioritised the task of strengthening and modernising our Petroleum Regulations, ensuring that they reflect international best practices and standards. These regulations will combine best practices identified in a variety of leading jurisdictions, including the United Kingdom, Norway, Australia, Trinidad and Tobago, the United States (as modified after the Gulf of Mexico incident), and Greenland.
"They will reflect the most up-to-date risk management practices and mandate the use of the best technology suitable for our conditions. These new regulations will also establish appropriate oversight and monitoring protocols to ensure that offshore exploration is conducted responsibly, and with a high regard for safety and environmental vigilance, having particular regard to the need to ensure human safety and, as I stated earlier in this statement, to preserve the beauty of our waters and beaches and our marine life and eco-systems.
"The new regulations are substantially complete already and will be presented to Cabinet very shortly to preserve the beauty of our waters and beaches, and our marine life and eco-systems."
Mr Dorsett said the Government was not going to conduct a referendum without ascertaining whether there were commercial quantities of oil in the Bahamas. "The new regulations would be in place well ahead of any oil exploration," he added. "Exploration drilling is, of course, the only way the Bahamian people will be able to get a scientific answer to the burning question as to whether petroleum reserves even exist in commercial quantities in our waters.
"Obviously, we are not going to have a referendum on a hypothetical proposition. We are not going to ask the electorate to vote on whether they want to develop an oil industry if there is no oil to begin with. Thus, we need to find out first, through exploration drilling, whether we do indeed have oil in commercially viable quantities. If we don't, then obviously it would be completely pointless, and a shameful waste of public funds, to have a referendum on the matter."
Mr Dorsett said if commercial quantities of oil were discovered in the Bahamas, the Government would engage the Bahamian people in an extensive public information programme to ensure all important facts were made available before a national referendum.
"This public consultation process would take place throughout the country, and would ensure the widest possible dissemination of important information about the discoveries and their potential significance," he added.
"As part of this public information process, the Bahamian people would also receive a timeline for production and, very importantly, there would have to be a national dialogue on all important aspects of the question, including how oil revenues should be used to develop our nation and our people in ways that would probably not be achievable under current revenue streams from tourism and other existing industries.
"Estimates suggest that exploration data, sufficient to answer the question of whether we have petroleum reserves in commercially viable quantities, would probably not be available until the latter part of 2014 or early 2015. Therefore, allowing for the public consultation process I have referred to, it is unlikely there would be any referendum on the oil development question before the second half of 2015."