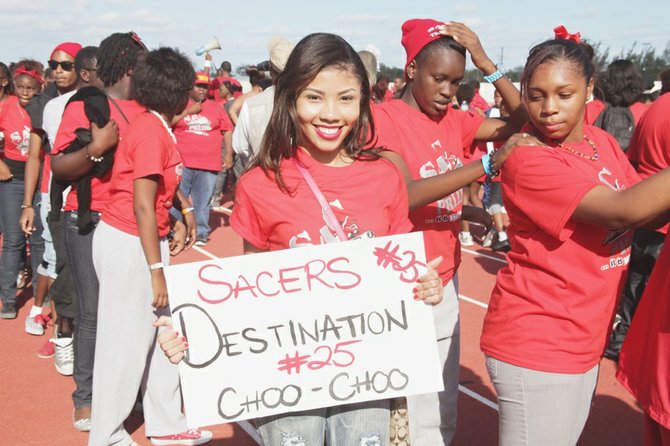 By BRENT STUBBS
Senior Sports Reporter
bstubbs@tribunemedia.net
AFTER winning by almost 50 points last year, the St Augustine's College Big Red Machine tripled their margin this year over arch-rival Queen's College Comets to book their 25th consecutive victory in the Bahamas Association of Independent Secondary Schools Track and Field Championships.
The Big Red Machine celebrated Friday as the three-day meet came to a close in the new Thomas A Robinson Track and Field Stadium with the showdown in the 4 x 400 metre relays after posting a total of 1,370.50 points, compared to the Comets' 1,102.50. The St Anne's Bluewaves were a distant third with 484.
SAC's dominance was highlighted by their triumph in six of the eight divisions, inclusive of bantam girls (90), junior girls (200), intermediate girls (195), senior girls (252), bantam boys (87), intermediate boys (237) and senior boys (181).
The only division they lost was the intermediate boys to Queen's College, who accumulated 177.50 to SAC's 128.50. Despite that hiccup, head coach William "Knucklehead" Johnson was beaming with pride after watching the Big Red Machine's victory lap around the track.
"Every one is sweeter than the one before. I don't know if that is possible, but the word was out that they (Comets) were out to stop the 25 and we took it personal and everyone did what they had to do and we came out here and were victorious," Johnson said.
Last year after the close encounter, Johnson said each member of SAC's coaching staff went out to improve on their deficiencies and that made the difference and now they are looking at 25 plus one. We're not going to say 26 for 2014.
The last time the Big Red Machine were defeated at a track meet was the Bahamas Association of Athletic Associations' National High School Championships by the St John's Giants in 1997. The championships have since departed by crowning an overall champion.
For Queen's College, who joined the Giants and the Jordan Prince William Falcons as the only real threat to St Augustine's College during their dynasty, head coach Garry Markham said they did all they could - again - but just couldn't get over the hump.
"They are a very difficult school to beat. They have some extremely good athletes," Markham said. "We have some extremely good athletes as well, but we have to keep knocking on the door.
"No excuses. None whatsoever. We were beaten by an extremely good team and the disappointment is that we have to come back next year and try to beat them again. So we have to give them their 25 (years)."
Markham said that they experienced some injuries that sidelined them a bit, but they provided the challenge and in the end, the Big Red Machine just kept on clicking.
But he was pleased with their efforts, as were the other schools like St Anne's, St John's and St Andrew's.
The curtain came down on the meet with Queen's College Comets' senior boys 4 x 400 metre relay team of Ian Kerr, Lerecus Armbrister, Theotis Johnson and D'Mitry Charlton running three minutes and 28.35 seconds to hold off SAC's team of Xavier Coakley, Lorman Johnson, Solane Smith and Nikita Higgins (3:29.83).
SAC's senior girls team of Eyeiessa Darville, Mesha Newbold, Danielle Gibson and Devynne Charlton ran away with the title in 4:04.68 over QC's team of Shonte Miller, Zaria Gibson, Talia Thompson and Vanaillan Walker, who clocked 4:12.35.
The Big Red Machine also took the intermediate boys 4 x 4 relay behind the team of Carlos Outten, Justin Pinder, Justin Major and Kinard Rolle in 3:31.34. This time, it was St John's who got second in 3:42.17 with Darius Major, Bryan Clarke, Malik Francis and Donneldo Harris in 3:24.17.
SAC opened the series of relays with the team of Marrisa White, Chelsea Smith, Blayre Catalyn and Doniesha Anderson producing a meet record of 4:03.47 to erase the time of 4:07.74 that was set by Queen's College last year. QC had to settle for second in 4:05.26.
The Comets' team of Dawayna Pratt, Valencia Dean-Simms, Ieisha Taylor and Jenae Ambrose pulled off the intermediate girls 4 x 4 title in 4:05.00 over SAC's team of Gianna Conliffe, Ochee Smith, Taj Dorsett and Shante Russell, who ran 4:06.90.
In the junior boys' division, QC's team of Tre Adderley, Branson Rolle, Brenton Edwards and Kaze Poitier powered to an impressive win in 3:52.11 over SAC's team of Michael Adderley, Alexander Storr, Nekco Kelly and Glen Knowles (4:02.02).
There were a total of four records established on the final day.
Included with SAC's junior girls 4 x 400 relay team were their senior girls 4 x 100 relay team of Devynne Charlton, Makeya White, Danielle Gibson and Keianna Albury, who clocked 47.05 to shatter the time of 47.55 that SAC's team led by Charlton and anchored by Shaunae Miller set last year.
The Comets' junior boys 4 x 100 relay team of Kristin Major, Kaze Poitier, Brenton Edwards and Branson Rolle tied the previous mark of 46.79 that was set by SAC in 1999. SAC's Alexander Storr, Trent Deveaux, Michael Adderley and D'Angelo Mackey did 50.05.
Individually, SAC's Shante Russell ran 2:23.25 to win the intermediate girls 800 to erase one of the oldest marks of 2:32.32 that was set by Mizpah Williams of Temple Christian in 1997. Amber Ford of St John's came a close second in 2:23.59.
The other record was posted by Pedrya Seymour of St Anne's who won the senior girls 400 hurdles in 1:01.23 to replace SAC's Devinn Cartwright's time of 1:01.77 that she did in 2010. Mesha Newbold of SAC was second in 1:01.86.