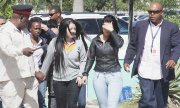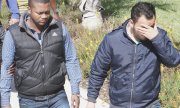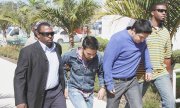 By LAMECH JOHNSON
Tribune Staff Reporter
ljohnson@tribunemedia.net
SEVEN Colombians, arrested at Lynden Pindling International Airport in connection with the smuggling of $24,000 worth of ingested condom-packed liquid cocaine, were arraigned in Magistrate's Court yesterday.
With the help of a Spanish interpreter, Johan Martinez, 20, Stevenson Osorio, 24, JHon Vasquez, 26, Yeison Mosquera, 25, and three women, Leydi Valencia, 21, Yamile Nino, 23, and Maria Sosa, 29, were arraigned before Deputy Chief Magistrate Carolita Bethell on drug charges.
The Colombians, who arrived in the Bahamas from Panama City on March 6, were charged with conspiracy to import dangerous drugs and conspiracy to possess dangerous drugs with intent to supply. They pleaded not guilty to both charges.
Martinez, Sosa, Nino, and Valenicia each faced a charge of importation of dangerous drugs and possession of dangerous drugs with intent to supply.
It is claimed that each of them, on the day in question, had swallowed various quantities of liquid cocaine packed in condoms.
Martinez is alleged to have ingested 10.5 ounces, while the ladies are said to have ingested 2.3, 5.5 and 6 ounces of cocaine respectively.
The accused also pleaded not guilty to these charges.
The Colombians, who retained Tecoyo Bridgewater as their counsel near the end of the arraignment, were told that they would stand trial on October 11 in relation to the charge.
"Because of the nature of these charges, I can't grant you bail," Deputy Chief Magistrate Bethell told the men and women.
They were remanded to Her Majesty's Prison until completion of their trial.