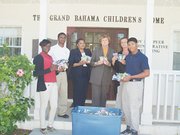 FREEPORT – International Baccalaureate students of the Lucaya International School donated 500 juice boxes to the Grand Bahama Children's Home yesterday.
LIS Head Boy Justin Higgs said: "We did this to help the Children's Home and we thought that having a juice box drive was a good way to get people to donate to the home and it's really simple and effective." He noted that the contribution was part of a school programme that includes an 18-month Creativity, Action and Service (CAS) element.
"As part of the IB programme at LIS, our students have to complete the 18-month CAS element to fulfil the diploma's requirements," said Vikki Purvis, CAS co-ordinator. "There are numerous requirements and one of the aims of this CAS programme is to educate students in the importance of caring about others less fortunate than themselves.
"They are required to carry out at least one project in collaboration with other students and these IB students decided to embark on a local project."
Justin Higgs, Arianne Crawford and Shylock Edwards spearheaded the juice-box drive to help the Grand Bahama Children's Home.
The students decided that as summer approaches, there will be a higher demand for drinks at the home.
Over the course of three weeks, the students worked hard to promote their drive and encouraged students, staff and parents to help.
"The school is extremely proud of these student's initiative and act of kindness towards the community," said Vikki Purvis. "LIS believes that if we teach our students to give back, they will learn the true meaning and importance of being good corporate citizens and I hope that this experience will impact not only these three students but also those who gave so generously."
Jean Hivert, GB Children's Home executive committee member, applauded the kind hearted gesture of the students and encouraged others to join their efforts.
"We thank the students of the Lucaya International School and their teachers for remembering us. The LIS community is very supportive of the home with the Annual Turkey Trot, Christmas gifts and more. These 500 juice boxes are an incredible gift and will save us much needed funds for the 25 children," Hivert said.
This is the third juice-box donation for the home. The first was inspired by Katelyn Cabral, a fourth grader at Bishop Michael Eldon School, and in turn inspired Azariah Brice from Freeport Gospel Chapel to do the same.
"We are fortunate that the children in our community are learning to give back and care for their fellow human being," said Hivert. "We should be very proud of our young children."