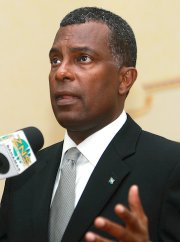 By NATARIO McKENZIE
Tribune Business Reporter
nmckenzie@tribunemedia.net
THE Government is eyeing "substantial" fee increases for work permits, permanent residency and citizenship, the minister of foreign affairs and immigration yesterday publicly criticising named businesses for their approach to hiring Bahamians.
In what could send a collective chill through the business community, and potentially impede economic recovery, Fred Mitchell signalled a hardening of the Government's work permit/Immigration stance, identifying specific jobs where he Government intended to stop approving foreign labour.
All this led a a senior private sector executive to tell Tribune Business that the work permit issue remains a key concern.
 "The fees for work permits, permanent residence and citizenship are all being looked at, and are likely to be adjusted to reflect the premiums which they draw and the actual cost of delivering the service," Mr Mitchell said.
"More, then, should be heard about this when the annual fiscal budget is done. I encourage those who have views about these matters, as I propose from this statement to reduce this to a permanent form as the framework of the new policies of the Department going forward. My suggestion is that the fees will increase substantially."        
Increased fees on work permits, in particular, could mean additional costs for many businesses. Recently-appointed chief executive of the Bahamas Chamber of Commerce & Employers Confederation (BCCEC), Edison Sumner, told Tribune Business the organisation was looking forward to an in-depth discussion with Mr Mitchell over the next several weeks on various issues affecting the private sector, work permits being one of them.
"The Chamber still has some concerns. We are reviewing those [Immigration] policies with our membership, and we hope to have an in-depth discussion with Minister Mitchell at some point over the next several weeks to discuss these issues, because they have always been very pertinent issues for discussion in the business community," MrSumner said.
" We want to give that priority.  We want to have a comprehensive overview of the  Immigration policies, the work permit issues and determine who is qualified to be granted work permits, how it affects other business persons, and that goes from professional to domestic services."  
Mr Mitchell revealed yesterday that he has been asked by Cabinet to work in conjunction with the Department of Labour and the National Training program "so that within a year we will be able to stop issuing work permits for maids, housekeepers and labourers". 
Mr Mitchell said significant pushback from the business community, if the policy was implemented, was expected. 
He added that last year there were 343 new applications for work permits for caregivers, live-in maids, housekeepers and the like, and 1458 renewal applications.There were 449 new work permit applications for labourers, gardeners, handy men and the like, and 1,891 permit renewals.
"Policy is not to grant a work permit where a Bahamian can do the job.  A labour certificate is required to show that," Mr Mitchell said. "Until recently labour certificates were granted routinely. Professional bodies are now consulted on whether or not the work permit should be granted.
"There is no limit on the number of times they can be granted, and what happens is that over time, people build up residency and ties in the country and qualify for permanent residence. There is some resistance at the policy level to this, and the suggestion is to re-impose a limit of a maximum of three three-year work permit terms.  
"This proved unworkable in the past because of the lack of an enforcement mechanism; there are no written policy guidelines which survive from minister to minister; the business community complains about the lack of expertise in the Bahamian community and the lack of quality in that expertise, and complain that for the Bahamas to compete it must have flexible work rules and policies to allow for the importation of labour," the Minister added.
"Granting of work permits is therefore highly subjective. We have, since coming to office, attached as we can in law various conditions: that an understudy must be identified and hired before a work permit is granted.
"This is still a difficult policy to enforce. We have been trying work with the Ministry of Labour with a view to eliminating the granting of work permits for labourers, maids, handymen.  I fear the reality is that that given the demand from the Bahamian worker for foreign labour, that this is an idle hope and I expect that this subject will continue to be a matter of debate for some time to come. Indeed, the policy on work permits is filled with traps where the aims and objectives of the policy are antithetical to one another."
     Mr Sumner, meanwhile, told Tribune Business that  the Government needs to look at implementing guidelines for foreign companies operating in the Bahamas to train Bahamians for the positions which they seek to bring in foreign labour to fill.
"When it comes to Bahamiansation, we need to look at redefining exactly what that means," he explained.
"When allowing any foreign entity or company to come into in the country, one of the criteria the Government ought  to advance is that there should be some level of Bahamian participation in those entities, and there should be a requirement put in place where these entities are allowed to train Bahamians to do the work they have been brought in to do, otherwise we will have a stagnant economy as far as the talent pool is concerned.
"If we do not allow Bahamians to be trained then we are going to have the same problem where we will always  find ourselves in the position where we would have to import expertise, because it's not in the country. It is very important for those companies and the Government to look at whether these foreign entities are allowed to train Bahamians to bring them up to certain levels of international standards of expertise," said Mr Sumner.
    During his presentation, Mr Mitchell noted that the granting of work permits has been "most vexing" on Grand Bahama. "I have met with the Grand Bahama shipyard; City Services. I will meet with BORCO and Club Fortuna, and other businesses and businessmen in Grand Bahama," he said.  
"We provide a support role to the Ministry of Grand Bahama, and the Minister of Grand Bahama sits in on all Immigration Board meetings in Freeport. If the complaints continue, we have made it clear to industry in Grand Bahama that we will begin to refuse all requests for work permits cold turkey, unless there is a clear understanding of the need for polices to hire and train Bahamians."
Mr Mitchell further stated: "I would like to respond to the concerns of our supporters in Grand Bahama, who have complained about the coming of foreign workers to the facilities of City Services, who have just gotten a big job to build a device for a company in New Jersey. 
"The Ministry of Grand Bahama has met with the company and warned them that they are to perform the promises that they made when we agreed to grant the work permit.  This means that Bahamians on the job who were dismissed were to be rehired, and there is to be a training  programme.
"The permits will be revoked if the Ministry of Grand Bahama certifies that the conditions under which they were granted are not met. We intend to meet with all hotels and major businesses and advise them that work permits must be produced form anyone who is marketing those skills in the Bahamas who is not a Bahamian.  There will be increased scrutiny at the border on this."
   Mr Mitchell said his ministry was also concerned about the hotel sector and the number of applications it was receiving for assistant hotel managers, plus food and beverage directors and butlers .  "This is a matter which ought to be addressed by the hotel sector and there appears to be a need for additional training opportunities since this is becoming an increasing practice. Given the developments in Bimini and the construction programme in Cat Cay, there will be increased scrutiny about the work practices in Bimini," said Mr Mitchell.