By BRENT STUBBS
Senior Sports Reporter
bstubbs@tribunemedia.net
From sprinter Debbie Ferguson-McKenzie to quartermiler Shaunae Miller, the winning tradition continues for Bahamians on the University of Georgia Bulldogs' track and field team.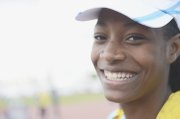 Not since Ferguson-McKenzie won the women's 60 metres in 1999 did an athlete win an individual title on the track at the NCAA Indoor Championships until Miller came on the scene and produced the Bulldogs' most spectacular performance ever in the women's 400m.
On Saturday at the Randal Tyson Track Center in Fayetteville, Arkansas, Miller clocked an impressive 50.88 seconds to snatch the gold, lowering Georgia's record for the sixth time this year, falling just shy of the Bahamian national record of 50.34 that was posted by Christine Amertil in 2006 and the World Junior record.
It was also the third fastest achieved by a Bahamian, just behind Tonique Williams-Darling's 50.87 that she ran in Budapest in 2004.
George Cleare, the Bahamian assistant coach at the University of Georgia, has had the opportunity to work with both Ferguson-McKenzie and Miller while in the Bahamas. But he said he is delighted to have Miller on board as the next Bahamian to follow in Ferguson-McKenzie's footsteps.
"It shows that really and truly, she's an exceptional talent," Cleare said. "She is one of those talents that comes around maybe once in a generation and it shows the importance of the possibilities of what she can do, not only for herself and family, but country, as we really have to protect her as a national treasure.
"In terms of her here at the University of Georgia, she's very coachable and she's very competitive. Her demeanor, her way of life when you see her from day to day, she's a very happy go lucky person. She's a very nice young lady, but when it comes to the competition, she changes into something that is a lot more competitive. She has that competition edge."
As one who is eager to follow instructions, Cleare said the soon-to-be 19-year-old freshman has for the first time this year adjusted very well to running indoors and it shows that she can eventually be a force to reckon with at the collegiate level over the next three years.
At six-feet, one-inch, Cleare said the sky is the limit for Miller. "We hope that she has pretty much stopped growing so her muscle can now start to develop the way they should," he said. "We're not going to change the strategy for her. She has ran a fast time, but we're done with that. We're going to focus on the rest of the season with the goal being able to further develop her and make sure she does what she has to do in the classroom.
"But we're not going to get excited and start to predict and project anything. We're just going to take it one step at a time. She's on a programme, a plan and we're sticking to that plan. We will probably focus a little more on her endurance with her running the 200 metres a little more to try to keep her healthy. So going outdoors, we are looking for her to do some more amazing things but, at the same time, we're not going to rush her into anything."
If the path that Ferguson-McKenzie took following her tenure at the University of Georgia is any indication, Cleare said Miller could be looking forward to having a fantastic future.
"We have a lot of relay meets ahead of her right now," said Cleare about Miller's pending outdoor schedule. "Over the next few weeks, she should be running a lot more 4 x 100s and 4 x 200s and we will basically pick the spots where she will run the 400m and start to get ready for the SEC and NCAA Championships and the Nationals at home."
Talking about home, Cleare said Miller is due to be here at the BTC Carifta 2013 at the Thomas A Robinson Track and Field Stadium March 29 to April 1 as she runs in what should be her final appearance in an international meet.
"She hasn't been evaluated yet. We intend to do that between now and Wednesday and then I can write the (Bahamas Association of Athletic Associations) association to let them know what her work load will be," said Cleare about Miller's appearance as the top athlete for Team Bahamas at the biggest regional junior meet.
"I don't want to pre-empt anything, but nothing is going to come up over her health. Carifta is a meet on our schedule, but we will assess her, see where she's at and then we will be able to make a determination on what exactly she will be able to do at the games."
Also at the University of Georgia are Grand Bahamian quartermiler Rashan Brown and sprinter Tynia Gaither. While Brown is still recuperating from an injury that sidelined her after her appearance at the IAAF Worlds last year, Gaither ran on the Bulldogs' distance medley team at the NCAA Indoors.
"Rashan has started to look like the Rashan of old after coming off her injury," Cleare said. "So we're going to pretty much start her off slow and as we get to the outdoors, we are looking for her to put up some really good times as well. I'm not going to risk any of their health. I want to bring them all back slowly so that they can have a productive season for us both at college and internationally."
In the meantime, Cleare said they are joining Miller in celebrating what has been an historic indoor season for a freshman.