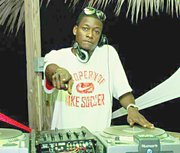 By LESH
Tribune Features Reporter
acadet@tribunemedia.net
MUSIC lovers still remember the way DJ Fines threw down the gauntlet at the Heineken Green Synergy competition. In his famous performance he back flipped to the beat of his own drum, taking home two championship titles in the process: in 2005, St Lucia and 2006, Bahamas.
"I am used to going into battles where it is just based on skills and who can rock the crowd the best. But this was the first competition I entered where there was so many different categories to win in.  And to go and represent your country, it was sort of a lot of pressure there. One thing about me, (my strategy to being the best) was always to learn from the people who I thought were better at it than I was," said DJ Fines.
The Heineken Green Synergy experience opened many doors for the Bahamian deejay. Today he is one of the youngest deejays to ever play on radio. He is considered amongst the best deejays the Caribbean has to offer.
From the age of six DJ Fines said he became interested in the profession. His brother Adlai, aka D-Boy, played frequently at various venues in the eighties.
"My brother was also a friend of Dion 'Da Butcha' Knowles. They were up and coming deejays at that time, so that inspired me to basically follow in their footsteps. DJ Fines has come a long way in terms of where the name came from. Back in day I was working at 104.5 FM while in high school. I used to do the earthquake mix show on the air there," said DJ Fines.
"It became a point where I was told I needed a deejay name. I didn't know what to say. At my school I asked some of the girls what should I call myself. They were like 'oh you look so cute you should call yourself fine.' I said it sounded kind of arrogant and full of yourself, but I said okay fine, and that is where it started from," he said.
While the name originally stemmed from his looks, after honing his craft DJ Fines decided to make his name an acronym. Since 2001, he said his name has represented his drive to be the best: For I'm Never Ever Second.
"The very first event I played to was the Red Cross Fair in 1993. Ever since then, I have been the DJ at the Red Cross Fair. The experience is great because back then I was so young and it was like no one really recognised me then. But for me to come from that point, work so hard to develop my skills and brand into my own class as a deejay, the experience is really meaningful," said DJ Fines.
The top three deejays he currently rates are Tiko T, DJ Kiddo and DJ Blaze. "Not to sound cocky, but it is going to take a lot to impress me and there are only a few deejays out there who are doing it the way that I would look at it. One at the top of my list would be Tiko T. The dude is a sick individual, I've known him from I was sixteen years old, and we were always like hand and hand working along with each other in our careers. To see where he has made it, I am very proud of him and I definitely rate him right now," he said.
The deejaying game is all about young people right now, said DJ Fines. "I'm sort of like borderline old and new, but in the next four years, it is going to be all about the youngsters. I feel like we should enforce the music knowledge more into these people because they are going to be the ones responsible for everybody partying in the years to come," he said.
In order to learn, DJ Fines said you have to be open minded. "The reason why I am the way I am today is because I was humble and I listened to people. I took advice. I would say to any deejay, if you really want to become successful, and better at what you do, you need to listen," he said.
Working at 100 JAMZ now for the past fourteen years, DJ Fines said it has given him the ability to grow and mature into the man he is today.
Music lovers can tune into DJ Fines on the 100 JAMZ
" Wake Up And Go" morning show with Lezz Boogie and Special K, which is between 6-10 am on weekdays. He is also on Thursday nights holding down the "Thunder Storm" with Joe Koolz, and on Saturdays 3-5pm holding down "The Guinness Bomb" with Xcitement.