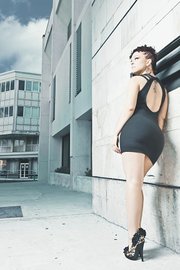 By LESH
Tribune Features Reporter
acadet@tribunemedia.net
KNOWN for her song writing skills, petite frame and signature powerhouse vocals, Bahamian artist Gia Miran is determined to take her talent to the next level.
A few weeks ago, Gia opened for the concert featuring international superstar R Kelly.
"The concert was a coming out for Gia Miran. This would be my first major concert ever performing to. R Kelly is someone I looked up to because he is a brilliant song writer, and he is one of the best R&B persons ever. I know that is kind of 'teeny bopish' to say, but his music is timeless," she told In Ya Ear.
Gia's "dramatic performance" at the concert, as she called it, had patrons rocking to her every beat. She sang original and cover songs.
"It has been a hard road. I am not going to lie to anybody, but if it is your passionate and it's something you really want to do, then through perseverance you'll get there. Just because you're just seeing me now, doesn't mean I haven't been doing this for the past ten years," said Gia.
As she recalls, Gia said she began singing at the age of five, and wrote her first song at the age 7.
"I grew up mimicking the greats Mariah Carey, Whitney Houston, and Celine Dion. I think I've always known that I had a gift and that it was something that I wanted to do for the rest of my life. I pursed my career in music seriously when I moved to the United States to college. The rest is history, it's been a long hard journey to the present but I'm here and I'm ready," said Gia.
After her mom gave her one of Mariah Carey's albums for Christmas at age 7, Gia said she got the key to unlock her musical talent and take her gift seriously.
By the time she arrived at Windermere High School in Eleuthera, Gia Miran became known for her many solos in school productions, where classmates encouraged her to seriously consider singing over a career in business. However, growing up on an island just 110 miles long in the Bahamas, Gia's dreams seemed far-fetched.
"At the time, the Bahamas had very few opportunities and Eleuthera, the island where I grew up, was just a speck on the map," said Gia.
To date, Gia said her music is moving on a positive path. Her single "Don't Get Me Started" is making waves. Gia said there is a market out there for Bahamian artists, and it is time for local singers to start kicking down the barriers and show the world they have what it takes to be world stars.
"I am pursuing music full time, but I am also self-employed so it makes it a bit easy to balance my lives." I'm just ultra busy all the time, but I wouldn't trade it for the world. This is what I want to do for the rest of my life, and I am so ready," said Gia.