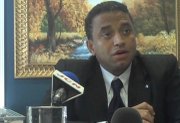 Halsbury Chambers founder and managing partner, Branville McCartney, will attend the second Offshore Investment Conference in Panama from March 13-14.
The regional conference will highlight the success of Latin American and Caribbean economies, and reveal solutions for managing wealth creation resulting from an influx of investment into the region.

The conference will bring together experts to discuss corporate solutions and individual financial planning strategies. Speakers include the president and chief execitive of Cable & Wireless Panama, the chief executive of the Panama Stock Exchange, the head of the LATAM Portfolio Advisory for Swiss bank BSI LATAM and more.
"This event provides an ideal platform for our firm to exchange information, expand our knowledge and build on existing relationships by interacting with corporate, financial and legal experts and decision-makers throughout the region," said Mr McCartney.
"Latin America is one of the fastest growing centres for commerce and investment. In recent years, the region has demonstrated increasing political poise and legal sophistication, and can be expected to flex even greater economic muscle in the foreseeable future."
The second Offshore Investment Conference is hosted by Offshore Investment magazine, a publication geared towards ultra-high-net-worth individuals, multi-national corporations, international investors and their advisors in 165 countries around the world.
The Panama conference is less than a month after Mr McCartney was invited to address the 20,000-member National Bar Association, when the Washington, D.C.-based organisation, the oldest and largest association of African-American attorneys and judges, held its regional meeting in the Bahamas. At that conference in February, Mr McCartney spoke on the history, and pros and cons of the Privy Council.