By LAMECH JOHNSON
Tribune Staff Reporter
ljohnson@tribunemedia.net
AN elementary teacher admitted to being a bigamist when he was arraigned before a magistrate yesterday morning.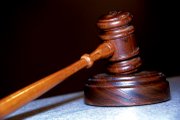 However, before any sentence or punishment could be passed on 57-year-old Ruddy Charlton, of Joe Farrington Road, his attorney Michael Kemp expressed concern that his client may have a mental condition and needed to be properly evaluated.
Presiding magistrate Derence Rolle-Davis said he was confused by the attorney's submission that a "functioning teacher" employed with the Ministry of Education may have a mental condition.
However, he did not object to ordering that a probation report be prepared with respect to Charlton before his punishment on May 9.
Charlton pleaded guilty to the bigamy charge when it was alleged that on August 22, 2012, knowing he was still married to Brenda Charlton, went through a marriage ceremony with Jamaican Mitchell Donnalyn Thompson.
According to the brief facts read by the police prosecutor, Mrs Chartlon reported to the police that her husband was involved in another marital affair.
She told officers that she and the accused were married in July 1978 in Detroit, Michigan where they resided until their separation some years later following knowledge of infidelity.
She recently found out that he married another woman in August 2012 and reported it to the police.
The police arrested the accused and visited the Registrar's office to confirm that Mr and Mrs Charlton were still married as no petition for divorce was ever made.
In an interview with police, the 57-year-old acknowledged that he married Mrs Charlton in 1978 and married again in 2012 knowing that he still had no grounds to go into the latter.
When asked by the magistrate if he accepted the facts, Charlton said, "Yes."
Mr Kemp then addressed the court on behalf of his client.
"There is concern that Mr Charlton may have some type of mental condition, notwithstanding that he is employed with the Ministry of Education and is a school teacher," the attorney said.
He requested that a probation report be prepared with respect to his client.
The magistrate expressed confusion by the request.
"I say confused because you're saying the man is a functioning teacher in our system, yet at the same time, he may have a mental condition," the magistrate commented.
Mr Kemp said the matter was a serious one. He requested the court's assistance.
Magistrate Rolle-Davis said he would "indulge" Mr Kemp's request because the attorney does not make such requests often.
The matter was stood down to May 9 when a probation report on Charlton's evaluation will be presented before any punishment for the offence is handed down.