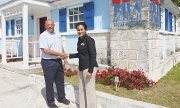 A former president of the Bahamas Real Estate Association's (BREA) Grand Bahama chapter has returned to her roots by joining ERA Dupuch Real Estate.
Christine Wallace-Whitfield is a Nassau native who has spent the last 20 years living away from home on other Bahamian islands.

"We are very pleased to welcome Christine to Team ERA," said Peter Dupuch, president of ERA Dupuch Real Estate. "She is a veteran realtor who was a leader in the Freeport real estate market.
":Her unwavering commitment to her clients and her job has been critical to her success. This drive, combined with ERA Dupuch Real Estate's culture of collaboration, innovation and knowledge sharing, can only enhance the experience of her sellers and buyers as well."
Ms Wallace-Whitfield and her family returned to Nassau late last year when her father, well-known businessman Roy Bowe, passed.
"I have a huge family here and it has been wonderful to reconnect with everyone. They have been so supportive," she explained. "To be honest, it is wonderful to back in this vibrant city and seeing the market developing so well. I attended the 'topping off' event at Baha Mar and it was thrilling to see the potential this development brings to Nassau."
Ms Wallace-Whitfield remains extremely proud of her time spent in the Family Islands and the knowledge gained there. "It's important to know all the islands in our archipelago, especially in the real estate business," she said. "My experiences have given me lots of local knowledge and make me a versatile agent for my clients."

Having spent some 16 years in Grand Bahama and three years in Exuma, all working in the real estate business, Ms Wallace-Whitfield feels the knowledge gained can only enhance her work.
"Our country is small but each island is unique," she added. "So when clients come looking to buy homes in Nassau, or those who are looking for a second home on another island, I am able to assist because I have lived there and I know the lay of the land."

She will also continue to work for her clients on these islands and hopes to enhance the presence of her new company in Grand Bahama.
Ms Wallace-Whitfield is a licensed broker and Certified Residential Specialist. She is currently president-elect of the CRS Nassau Chapter.