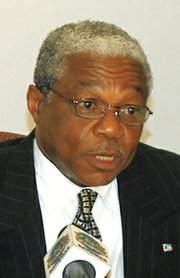 THE partnerships between the Bahamas, the United States and other regional governments which led to a 75 per cent drop in the drug trade can act as models for the fight against illegal guns, Minister of National Security Dr Bernard J Nottage said.
Illegal firearms are used in many of the serious crimes being committed in the Bahamas and across the region.
Governments and law enforcement agencies have been meeting to develop new strategies and solutions to the illegal gun trafficking phenomenon and the violence associated with possession of these weapons.
Late last year, a United States-Bahamas Partnership Dialogue was held in the Bahamas. Among the matters discussed was the need for co-operation to deal with illegal trafficking of firearms, illicit drugs and trafficking in persons.
Dr Nottage, who was recently appointed chairman of the CARICOM Council for National Security and Law Enforcement (CONSLE), said he is convinced that once the right strategies are put in place to deal with the issue of guns, a stranglehold can be placed on much of the criminal activity confronting the Bahamas and the wider Caribbean.
"Many of you will recall the challenges that confronted us during the difficult drug trafficking years of the 80s and 90s when 80 per cent of the drugs entering South Florida came through the Bahamas," Dr Nottage said.
"But due to our collaboration with the United States in particular, we were able to make interventions that have now reduced drug trafficking flows through the Bahamas into South Florida to less than five per cent.
"This represents amazing results due to strong partnerships, excellent law enforcement, and robust, anti-drug legislation among other things," he said.
Dr Nottage said he was "of the firm view" that the same partnerships that helped stem the flow of drugs can be used to stem the flow of guns.
"We must do more to stop the flow of illegal guns entering our country," Dr Nottage said.
"We demonstrated our abilities to make a difference in the drug trafficking fight, and I am convinced that as we commit ourselves to a war on illegal guns, we can realise similar or even better results than we have on the drug trade, but that will require consistency, commitment and dedication."
Dr Nottage said while there are admittedly too many guns on the streets of the Bahamas and in the hands of Bahamians, particularly young Bahamians, law enforcement and national security officials have put in place and are putting in place a number of strategies designed to combat this issue. This is in addition to what is being done at the regional and international level.
"Over the past several weeks have had many encounters with young boys and there is hardly a young boy over the age of six or seven who hasn't been exposed to guns, marijuana and cocaine in his community and sometimes in his home," Dr Nottage said.
"There are quite a number of our young people who are exposed at an early age, even before they can appreciate what they are dealing with, to drugs and guns within their homes."