BY DENISE MAYCOCK
Tribune Freeport Reporter
dmaycock@tribunemedia.net
FREEPORT – A 25-year-old Abaco man accused of raping a 12-year-old girl is on trial in the Supreme Court on Grand Bahama.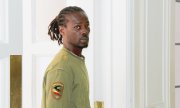 Oshanessy Armstrong, of Dundas Town, is charged with two counts of unlawful sexual intercourse with a minor under the age of 14.
It is alleged that the incidents occurred some time in February and March of 2010. Armstrong was 22 at the time.
The trial opened on Monday before a jury of nine women.
Senior Justice Hartman Longley is presiding over the matter. Carlson Shurland is representing Armstrong and Prosecutor Erica Kemp of the Attorney General's Office is appearing on behalf of the Crown.
The victim, who is now 15, told the court she knew the accused five years prior to the incidents, but never talked to him.
She said her girlfriend introduced her to Armstrong in January 2010 and they exchanged cell phone numbers.
According to the victim, she and Armstrong started communicating online through Facebook after her mother took her cell phone away.

In February, she said they arranged to meet at her uncle's house, which was unoccupied and still under construction.
The victim said Armstrong had sex with her using a condom.

"I tried to stop him, but he was strong," she told the court.
The young girl said they met at the same location in March 2010, where they again had sex.
This time, Armstrong did not use a condom, she said.
The victim, who was a seventh grade student at the time, said she was a virgin and never had sex with anyone else.

She said that on August 25, she and Armstrong were chatting online and agreed to meet at her house to talk.

Armstrong came over around 1am. She said she let him inside quietly.

The victim said Armstrong was sitting on the sofa texting on his cell phone when her father came downstairs and caught them.
The victim's mother took her to the doctor's office on August 26. The physician examined her and prescribed medication for a yeast infection, she said.

Dr Charity told the court that victim's hymen was broken. He also conducted a pregnancy test, but said it was negative.
The victim was also taken to the government clinic in Cooper's Town, where she was examined by Dr Kevin Simmons on August 27, five to six months after the alleged incidents,
Dr Simmons told the court that he applied a rape kit. He examined the victim and found no recent trauma or bruising associated with sex.
He also said the victim was not in any emotional distress. He said did not conduct a swab test.
When asked why not, Dr Simmons said the test for semen fluids is normally taken five to six days after a sexual encounter.

If the hymen is broken, does it mean that the person had sex," asked Mr Shurland?
"No," replied Dr Simmons.
The victim's father also testified. He said his daughter is the youngest of five children.
He identified Armstrong in court as the person he found inside his house around 1am on August 25, 2010.
The father said he has known the accused and his parents for a very long time.
He said he never gave Armstrong permission to come to his house during the early morning hours of August 25.
The trial resumes on Thursday.