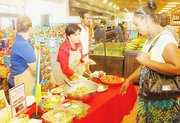 STATE Minister for Investments Khaalis Rolle dubbed Solomon's Fresh Markets in Harbour Bay a "secure investment" in Bahamians and "the market of choice" for tourists.
He was speaking alongside AML Foods chairman Dionisio D'Aguilar yesterday at the grand opening of eastern New Providence's newest major grocery store.
The store, which emphasises healthy and organic products, first opened its doors back in December of last year.
Mr Rolle said yesterday: "Investing in the Bahamian people is something that we, in the Bahamas Investment Authority, believe in and promote every day.
"We are especially pleased when that investment comes to fruition, providing hundreds of jobs for Bahamians through construction and direct employment with the business.
"We are also pleased when an investment adds value to Bahamian's lives. Over the years, AML's brands have become household names in the Bahamas and have added significant value and quality to the offerings they give to the Bahamian public."
The minister praised the environment and overall shopping experience – calling Fresh Markets spacious, and "a pleasant place to be" with friendly staff.
"This standard cannot be underestimated," he said. "It adds to the quality of our lifestyles and our lives."
Mr Rolle added: "This store has also become the market of choice, meeting the needs of our tourist shoppers from nearby marinas and from Paradise Island."
"AML Foods has brought to the Bahamas food stores that rivals – in terms of layout and appearance and product selection and yes, customer service – some of the finest food stores found in the US and Canada and the UK," he said.
"For too long, we have all complained that there are simple no first world nor first class food stores in this country. We all go abroad – especially to south Florida – and go into the local Publix or Winn Dixie or Whole Foods and lament why we cannot have anything close to what we see over there, here in the Bahamas."
Also noting Fresh Market's emphasis on healthy and organic products, Mr D'Aguilar added that for customers who complained "that we did not carry enough of the basics", the product line has been adjusted and more familiar brands can now be found.