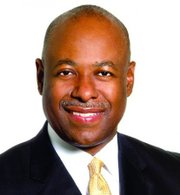 By NATARIO McKENZIE
Tribune Business Reporter
nmckenzie@tribunemedia.net
THE Bahamas must ensure the visitor departure experience is equally as enjoyable as the vacation, the Minister of Tourism also expressing concern at this nation's low cultural experience rating.
Responding to concerns raised recently by tourism executives over existing and potential passenger bottlenecks at Lynden Pindling International Airport (LPIA), Obie Wilchcombe said: "The truth is it is what it is. What is happening in America is a part of their structure of governance, and circumstances that happen in the process thereof.
"It is for us at all times to be in a state for readiness and respond as best we could. What we must do is ensure that while here, the visitor experience is wonderful,and ensure that their departure is equally as enjoyable. In other words, we need to find ways to make that long wait on the line not feel like a long wait. We just have to deal with the hand that is dealt us from time to time and move forward. At all times we have an obligation to make the necessary adjustment and provide for our visitors the best vacation or experience they could possibly have."
Nassau Airport Development Company's (NAD) chief executive, Vernice Walkine, warned last week that US budget cuts will impact US Customs & Border Control Patrol (USCBP) operations at the airport, raising the spectre of a repeat of last summer's passenger 'logjams' in US pre-clearance.

Ms Walkine, who was speaking at a meeting of the Rotary Club of Nassau, said NAD was working to address these challenges with USCBP, and committing some of its own staff in the pre-boarding areas to manage the queues.

"The fact of the matter is that the US government's budget sequestration is going to have an impact on us whether we like it or not. We have already accepted that that is going to be a challenge, because USCBP will not be able to authorise overtime for their officers. Their officers are also being told that they have until September to take 11 days vacation time or they will lose it, so there are a number of challenges ahead of us which we are addressing. We are working with US Customs to try and minimise the excessive queue times that a lot of passengers have been experiencing. They (USCBP)have their own constraints. A lot of governments have their constraints, but we are working on that," said Ms Walkine.
Mr Wilchcombe, for his part, added: "It's a bit early to tell what other areas have been affected by the sequester rule. We don't know if it's going to have any drastic impact on our arrivals numbers, airlift or sea. We are continuing to monitor and hopefully we will be able to continue to market in a way that they will decide to come to the Bahamas."
Robert Sands, Baha Mar's senior vice-president of government and external affairs, told Tribune Business that existing problems in the arrivals hall, and anticipated ones at US pre-clearance, could undermine "the success we have achieved in reversing a negative trend" on many tourists' last experience of the Bahamas. Calling for all parties to work on a solution, Mr Sands said LPIA's redevelopment - and associated service improvements by all companies operating at the airport - had achieved "a complete reversal of travelers' perceptions and experience of the airport".
Meanwhile, Mr Wilchcombe said: "The Bahamas rates low in terms of the exchange of culture. We aren't doing a very effective job in that area.
"Many people who are coming to the Bahamas are not leaving with an understanding or true taste of the heritage of our nation. We have been working more on trying to increase the level of activity that relates to cultural heritage, because we have not been giving the visitors a reason for returning to the country. We have been causing them to see the Bahamas as just sun, sand and sea."