By KHRISNA VIRGIL
Tribune Staff Reporter
kvirgil@tribunemedia.net
THE body of a man was found, shot in the head and burned beyond recognition. His body was found inside an SUV early yesterday morning, according to police sources.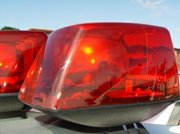 Officers at the scene of the incident at Lily of the Valley Corner off East Street, initially responded to calls that a Ford Explorer was engulfed in flames.
After firefighters extinguished the blaze, it was discovered that a man was inside the vehicle. Upon further examination, investigators discovered what appeared to be a gunshot wound in the right side of the victim's head. The incident happened at around 6:20 am.
Authorities are urging members of the public to come forward with any information they might have of the incident.
Meanwhile, police said two firearms were taken from the streets of Nassau over the weekend.
During the first incident officers from the South Central Division discovered a 12 gauge shot gun in an abandoned building at Montell Heights at 5 pm on Saturday.
In another incident a 38-year-old Gregory Town, Eleuthera man was found by police with a handgun.
He was taken into custody shortly before 3 am on Sunday after authorities from the Central Division searched him at a business establishment on Baillou Hill Road South.
Investigations are continuing, police said.
In Spanish Wells, Eleuthera, on Sunday a 38-year-old man was sent to hospital after been struck in the head with a rock.