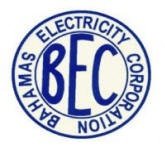 By NATARIO McKENZIE
Tribune Business Reporter
nmckenzie@tribunemedia.net
Businesses yesterday complained that the Bahamas Electricity Corporation's (BEC) power outage forced them to close their doors for three-four hours, with some having to work late into the night on key documents.
Barry Kemp, proprietor of A1 Lock & Key, said power was off at his shops for three-four hours, and he was forced to turn customers away from his Market Street location.
"At the shop on Market Street we had to turn away customers," he said. "Even though we have a machine with an inverter, my son was on the road and so we couldn't do anything for the customers coming in.
"If the power is out the shops can't really do anything otherwise. The good thing is it happened in the late afternoon. Had it been early in the morning we would really have had a  problem, because that would have meant we couldn't copy any keys because our machine goes with 115 volt AC."
Godfrey Forbes, president of Dykton Mechanical and the Bahamian Contractors Association's (BCA) president, told Tribune Business: "We do not have a back-up generator for our complex and here I am in the process of putting together bids for a number of projects.
"I was talking with a company who had sent me an e-mail, which spoke about an addendum that has to be considered on a bid that we are presenting, and they had a last minute change which had to be included in our bid.
"I asked them if it is possible to go ahead and e-mail it, but he told me his power was off and he couldn't power up his computer to send the e-mail. So after normal working hours I will have to try and get some things done which I should have been able to do earlier in the day.
"This does have a negative impact on businesses, and I know for me I am going to have to burn some midnight oil if the power stays on, and that takes me away from some other things which I have to get done."
The Bahnamas Chamber of Commerce and Employers Confederation (BCCEC) chief executive, Edison Sumner, said yesterday that organisation was concerned over the impact f power outages had on businesses as well as the high cost of electricity, noting that many small firms saw their operations significantly impacted.
    BEC officials reported yesterday that around 3pm an underground fault caused an outage, with full restoration expected to be completed this morning.
Mr Sumner said: "There are concerns about the loss of power because it affects every business in the country, and without power businesses cannot operate their business as they would like.
"We are concerned not only about the frequent power outages but also about the exorbitant electricity bills we are facing on a regular basis, and there seems to be no immediate relief in sight.
"We know that Mr Miller seems to be trying his hand at reducing at least the operating expenses at BEC, and if he is successful we are hoping that businesses throughout the country will feel the trickle down effect. The frequent outages have a monetary impact on businesses; we are unable to produce when power goes out, and many businesses - especially the smaller ones - do not have back-up generators, which are very costly capital items a lot of businesses cannot afford to spend on. These outages have a negative impact on the bottom line of business throughout the country, particularly smaller business, so we are very concerned about that."
   Shonalee Johnson, manager of communications at the Nassau Airport Development Company (NAD), when contacted yesterday afternoon, said LPIA was operating on back-up generators andt there had been no service interruptions.
"At present there is no impact to airport operations. We are still, however, using our generator system.Things have been operating as normal. There haven't been any major delays and the airlines have been operating and processing passengers as they normally would. We have been operating on the generator system for approximately two-and-a-half to three hours," said Mrs Johnson.
Stephano Greene, head of the Bahamas Electrical Workers Union (BEWU), the union that represents BEC line staff,  said the union was not  striking or in any way involved with yesterday's outage.
"We're not involved with any power disruption. We're assisting with trying to restore power, and so we have our guys out trying to assist, but we aren't involved with any power outage," said Mr Greene.