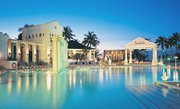 By NATARIO McKENZIE
Tribune Business Reporter
nmckenzie@tribunemedia.net
BOOKING trends at SANDALS Royal Bahamian are down year-over-year for the next four months, its general manager revealed yesterday, citing this destination's high cost when compared to Caribbean rival as a major factor in the decline.
"Right now we are running at about 80 per cent," said Patrick Drake. "We are behind our booking trend for the next four months, definitely. We're behind even last year.
"The truth is that the overall cost of the destination, I think, is having an impact because we are all trying to get our rates up, but the truth is now that so many of the other Caribbean islands are more attractive price wise.
"The room rates are lower than last year. Occupancies are behind and the rates are down. The rates are really not what they should be. You can't get your rates up if you don't have the occupancy to justify it; it becomes a catch 22. That's our challenge right there, but we're holding steady and we're hoping that we see some growth hereafter."
Last year, the Wall Street credit ratings agency, Moody's, noted that ever since the recession hit in 2008, the Bahamas share of the region's land-based tourists had fallen by more than one percentage point, while rivals saw stopover increases.
This suggested that the Bahamas' market positioning, as a high-end, high-cost destination, was working against it at a time when price-conscious travellers were seeking cheap vacation deals.
The Bahamas Hotel & Tourism Association's (BHTA) president, Stuart Bowe, disputed Moody's assertion that the Bahamas had lost stopover visitor market share to Caribbean rivals, saying this nation "held or slightly increased" its share in 2012 - a year that 1.35 million air arrivals made the best since 2008.