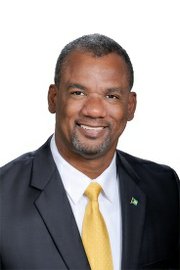 By SANCHESKA BROWN
Tribune Staff Reporter
sbrown@tribunemedia.net
MINISTER of Education Jerome Fitzgerald said it will cost the government around $1m to repair North Eleuthera High School after a devastating blaze.
He also said because his ministry's budget has already been completed other planned initiatives will be affected.
The fire, which happened shortly before 4am on Monday, totally destroyed the library, physical education and social studies rooms at the high school.
Several computers and other school equipment, valued at a few thousand dollars, were also lost.
Although several residents and volunteer firefighters were able to contain the fire before it spread to other buildings, the damage to the school was extensive.
Commissioner of Police Ellison Greenslade confirmed the fire was intentionally set by an arsonist.
Speaking outside of yesterday's Cabinet meeting, Mr Fitzgerald said it was 'very sad' that someone in the community would do something so horrible that negatively impacts the lives of pupils.
"It's three blocks so you are probably looking at just under $1 million dollars, I would estimate although we haven't had the full results. We had our technical people go to Eleuthera yesterday to do an examination so I am hopeful that within a week or two we would have a very good idea of what the cost would be to replace it. I just finalised my budget last Friday and of course there wasn't any provision in there for this and we would have to go back and revise which means that something else we wanted to do may be impacted," he said.
"It's again very sad that persons in a community would vandalise and set on fire a school which is there to uplift and promote the best interest of the children. It's very sad," he said.
Mr Fitzgerald said the ministry was in the process of finding a place to relocate the affected children before the end of Easter break.
"Of course we are very disappointed that someone who we understand may be from that community, would damage the school in that community. Now we would have to find additional funds to repair that school while we have a lot of other very pressing needs in education. We are very disappointed at that and we hope that the person or persons would be brought to justice very quickly," he said.
"With regard to the school itself we are looking for a location to relocate some of the kids impacted but for the most part the school remains intact thanks to the quick action of members of the North Eleuthera community. We are hoping that the time the kids come back from the Easter break we would have a new location just for the kids impacted on those one or two blocks. We will have it addressed relatively quickly and so the kids in North Eleuthera won't be disadvantaged particularly going into the examination period."
Investigations into the fire are ongoing.