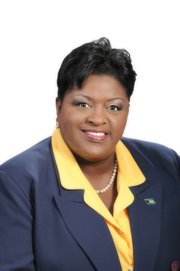 OFFICIALS hosted a one-day conference for social workers, guidance counsellors and law enforcement officials about children's rights.
The 'I Gat a Right' seminar was designed to train professionals on the fundamentals of the Convention on the Rights of the Child.
The Bahamas signed onto the convention on October 30, 1990 and ratified it on February 20, 1991.
"By signing onto, and ratifying the convention, the government agreed to be held accountable to the international community for ensuring and protecting children's rights," said MP Melanie Griffin, Minister of Social Services, on Monday.
"In this world of high technology and easy travel across borders, it is recognised that we live in a global village and that there are many demands on us, particularly based on international conventions to which we have signed on. The Bahamas is being required to take is place with the other state parties who have endorsed the Convention on the Rights of The Child and to enforce the rights contained therein.
"Additionally, we are mandated to develop and undertake all actions and policies in the best interest of the child," Mrs Griffin added.
Mrs Griffin said the convention was the first legally binding, international, instrument to incorporate the full range of human rights.
"The originators wanted to ensure that the world recognised that not only adults, but children as well, had human rights. These rights include, the right to survival; the right to develop to their fullest potential; the right of protection from harmful influences, abuse and exploitation, and the right to fully participate in family, cultural and social life.
"The purpose of this seminar therefore, is to provide training to social workers and guidance counsellors on the convention and then to pass on this knowledge to students in simple language they can understand, using the Bahamian context."
Mrs Griffin said the seminar should be viewed as more than dealing with the rights of children, 'but with the foundation of how we, as a people, treat the future generations of Bahamians.'
"If they are to grow into the kinds of productive, well-rounded adults we need for the peaceful development of our country, it is imperative that we ensure their protection and the enforcement of their rights.
"The children, no doubt, will benefit greatly and by extension, our community, as we educate them about their rights," Mrs Griffin added.
Minister Griffin said far too many children were being abused, molested and neglected in the Bahamas despite the fact that children are considered the next generation.
"We can not expect our children to be productive citizens under such conditions," Mrs Griffin said.