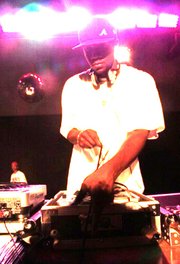 By LESH
Tribune Features Reporter
acadet@tribunemedia.net
TRAVIS PARKS was an employee at the Atlantis Resort, before he was inspired by a relative to get behind a deejay set.
As a deejay at Atlantis, Travis' uncle taught him the skills he needed, and the rest came natural. Due to his love for music at a young age, Travis became known as "DJ Kido", a name that has stuck with him.
"Growing up, I would always be around my uncle while he was deejaying and I would practice. Just by being around him, it inspired me, so I decided to ask him to get me a job at Atlantis. I started working at the pools as a helper," said DJ Kido.
After pushing his talent and skills further, DJ Kido was offered a deejaying job at Aura Nightclub, where he said he worked for about four years. "Aura was a big experience for me. Different music, different set of people and I liked it," he said.
His drive did not stop there. The 22 year old is now known as the youngest member of the 100 JAMZ Dynasty.
"I've been with 100 JAMZ for about a year now and the experience is good. My name is out there now and a lot of people know about me and what I do. I am getting more experience at JAMZ," said DJ Kido.
His most memorable event is playing at the 2009 Miss Universe VIP Pre-party: From the crowd's feedback to meeting international celebrities, DJ Kido said he thoroughly enjoyed the experience.
"That was like my first big event working at Aura and at Atlantis as a deejay on the whole. People really responded well," said DJ Kido.
DJ Kido sees deejaying as a long term goal, with plans to get better and better every year.
"I get the drive to push myself further by listening to other deejays that encourage me. Listening to people like DJ Fines, when he does things I can't do. It inspires me to go and practice and improve myself," said DJ Kido.
"DJ Fines is a very good deejay with the scratches and everything, and Tiko T, he is an overall performer and he knows how to rock the crowd. Xcitement is a really good radio deejay with all of the hits and everything. And that's it I really follow up on," he said.
Besides Nassau, DJ Kido has had a chance to play in Freeport and Miami. He doesn't usually get a lot of spare time, so whenever he can, he just hangs out, which still involves digging into some music here and there.
"The business takes a lot of hours. You can't just come up and say you want to be a deejay. You have to put in time and those hours. Changes I would like to see, a lot more variety of music being played, instead of the straight Hip Hop and Reggae. You got a lot of Pop and House music that is becoming popular. If we can start playing a lot more variety of music in the club, that would be good," said DJ Kido.
DJ Kido plays at the Atlantis pools during the day, as well as on air at 100 JAMZ, Monday nights, 9-10 pm, and Friday 9-1 am on the Thunder Storm.