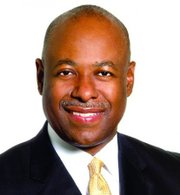 By KHRISNA VIRGIL
Tribune Staff Reporter
kvirgil@tribunemedia.net
TOURISM Minister Obie Wilchcombe said the government is in talks with four companies to take over the operations of the Grand Lucayan Resort Casino in Grand Bahama.
The contenders to take over the struggling property, which is owned by Hutchinson Wampoa, include four separate companies from Australia, Latin America, the US and the Bahamas.
Mr Wilchcombe said when the deal is finalised the handover could cost around $4m or $5m dollars.
He said yesterday: "All (of them are) seeking to have an opportunity to run the casino in Grand Bahama on the terms that we are negotiating which will mean an increase of staff.
"We are trying to create a fast moving (more of an) entertainment oriented (experience) to help in the rebuilding of the Grand Bahama tourism economy."
The government he said is also aiming to ensure that the transition has little or no affect on the current employees or will cause a closure of the event for long periods of time.
"What is going to happen is once we would have completed negotiations with the team we will set the date for the transition. It will be a seamless transition. Then there might be some minor repairs needed to put it to the standard but that will be after our employees would have met the new employer and then they would have worked out how best they would proceed."
In October, major partnership arrangements were signed between the government, Hutchinson Wampoa and the Sunwing Travel Group, the world's largest travel company.
Hutchinson is also gearing up to renovate and reopen the 503 room Reef Village which will be leased and operated as a five-star resort.
That development is expected to create 1,000 new permanent jobs and hundreds of construction jobs.