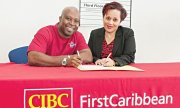 CIBC FirstCaribbean has set up a savings account at the bank's Shirley Street branch to make it easy for the public to donate funds to help CARIFTA'S Local Organising Committee with hosting the 42nd Annual CARIFTA Games.

Since account number 201640398 was opened last Friday, people have been visiting any CIBC FirstCaribbean branch in Nassau, Abaco, Eleuthera and Grand Bahama to make donations.
The bank's managing director, Marie Rodland-Allen, said: "CIBC FirstCaribbean is proud to sponsor the CARIFTA Games and to be a part of such a spectacular event. When the idea was presented to us, we thought it a great suggestion and did what we could to make it possible. We have had a number of persons donating to the account and encourage the public to visit any one of our branches and make a donation to CARIFTA."
Linda Thompson, CARIFTA'S lead fundraiser, was grateful for the support and congratulated the bank for its efforts to help make CARIFTA a success.
She said: "This is a great thing that CIBC FirstCaribbean has done and we invite every Bahamian to contribute because this is an opportunity to make the best impression to people from all over the region, including the press and sporting officials."