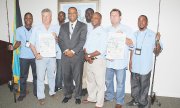 FREEPORT – The Grand Bahama Shipyard has announced plans for its third annual Youth Benefit Fishing Tournament to raise funds that will help three government schools on the island.
Ed Pavey, tournament chairman, said last year over $40,000 was raised and donated to help with school refurbishment projects in East Grand Bahama.

This year, they are hoping to raise over $60,000 that will used for projects at schools in West Grand Bahama, including the Bartlett Hill Primary, Martin Town Primary and Holmes Rock Primary Schools.
During a press conference at the Office of the Prime Minister on Monday, Mr Pavey announced that the tournament will take place on April 6 at the Grand Bahama Yacht Club.
Also present was Minister for Grand Bahama Dr Michael Darville.
Mr Pavey said the Grand Bahama Shipyard is one of the largest corporate entities on Grand Bahama, which is committed to giving back to the community.
"The tournament is the brainchild of our executive vice president Rueben Byrd, and the main purpose is to give something back to the community," he said.
"We already have over $70,000 in corporate sponsorship promised and we anticipate that after expensive having over $60,000 for projects," he said.
"We don't actually donate the funds; we do the work that is required at the schools, such as putting in smart boards, swing sets, and basketball court refurbishments, bleachers, and painting."
At Martin Town, they will be providing computers, books for students, a lawn mower, playground equipment, and water coolers.
At Bartlett Hill, they will refurbish the basketball courts, building picnic benches/bleachers, swing sets, and water fountains.
At Holmes Rock Primary, they will paint the school, repair picnic benches/park benches, and provide water fountains, five televisions/DVD players and a projector for the library.
Mr Pavey said the tournament has grown year after year, and this year persons from the United States, Abaco, and New Providence are expected to participate.
There will be seven categories of fish – Grouper, Tuna, Snapper, King Fish, Mahi Mahi, Barracuda, and Wahoo. There will be over $4,000 in cash and prizes up for grabs.
The cost per boat is $250, with four persons per boat.
Mr Pavey is encouraging persons to purchase bait and fishing supplies from OBS Marine and Long's Marine, which have agreed to donate bait sales to the tournament. He said persons must say that they are in the tournament.
There will also be a Family Fun Day for the wives and children of the participants and students of the recipient schools.
He said there will be activities for the kids, including slip and slide, bouncy castle, face painting etc. The Legends Marching Band and the Bahamas Brass Band will also perform.

A raffle is also planned. Prizes include a 50-inch Flat screen TV, a laptop, jewellery, watches, and airline tickets. Restaurants and hotels have also donated prizes.
Some of the major corporate sponsors are BORCO, GBPA, Container port, harbour, and airport, Mechanical Engineering, Barefoot Marketing, Pharma Chem, GB Power, GB Chamber of Commerce, H Forbes Charter and many others.
Minister for Grand Bahama Dr Michael Darville commended the GB shipyard for what they are doing to assist public schools on Grand Bahama.
He said: "It is clear that the resources will definitely assist students in West GB. Last year, I saw the resources used at schools in East GB and I was impressed.
"It is very important because here in GB we are working diligently with the private sector to raise funding that will help upgrade our schools," Minister Darville added.
CAPTIONS
BIG GROUP
From left to right: Anthoniqua Duncanson, Grand Bahama Shipyard Year 2 Apprentice; Ed Pavey, GBS Fishing Tournament Committee Organiser; Kevron Smith, GBS Year 4 Apprentice; Minister of Grand Bahama, Dr Darville; Clarence Colebrooke, GBS Year 4 Apprentice; Creighton Moxey, GBS Fishing Tournament Co-Director; Mark Wilson, GBS Fishing Tournament Food Manager and Shennard Smith, GBS Year 4 Apprentice. (Photo courtesy of Dereck Carrol for Barefoot Marketing)
SMALL GROUP
Pictured left to right are Ed Pavey; Minister Darville; Creighton Moxey; Mark Wilson. (BIS PHOTO/VANDYKE HEPBURN)