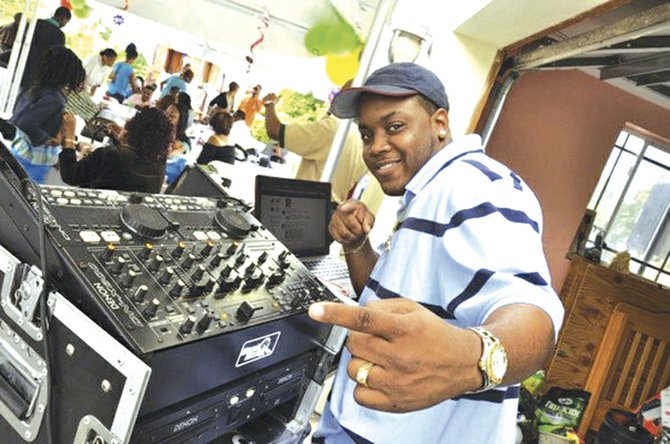 By LESH
Tribune Features Reporter
acadet@tribunemedia.net
IT MAY be hard filling the shoes of a father often called "a deejay legend", but for Delgano "DJ Tank" Ferguson, it has been a blessing to be able to learn and share with his father.
DJ Tank said he wants to continue to pass on his skills as a deejay the same way his father "One Dwight" did for him.
"I started deejaying from the age of nine. I inherited deejaying on my dad's side of the family. My uncle is DJ 'Gold Digger Senior', my cousin is DJ 'Gold Digger Junior' so I inherited this whole music thing. Music to me is a passion and I don't like it, I love it. I take it serious like breathing, so I couldn't miss it. When I was growing up, my dad was my biggest idol and I always looked up to him and said I wanted to be better than him," said DJ Tank.
"I saw the joy in people's faces when he played to different functions, so it inspired me to be the deejay that I am today. I can't say that I am better than my dad as a deejay because I don't want to cross that line, but I can say that I am right behind him," he said.
At a young age, people would call Delgano "Lil Dwight" because he was seen everywhere with his father. As he grew older, he realised he needed a deejay name, because "Lil Dwight" is also the name of his brother.
"I searched different names and I tried to stay professional because I didn't want to use a slang name. The whole tank symbol really caught me because of the whole structure of an army symbol and it just stuck with me," said DJ Tank.
After the inspiration and the name, came the parties and the many events that awaited DJ Tank's talent. He recalls his first event at a Fish Fry with his father in 1994. "At that time, I couldn't touch the record player because I was too small, so I had to stand on two crates to actually play," said the 25 year old deejay.
"I am not a one dimensional deejay. I do golden oldies, rake and scrape, soca, disco and international music for events in Florida. I do a lot of tours and I have been to every island, except Inagua," said DJ Tank.
He said his most memorable experience playing was two years ago at an international event called "Bahamian All Stars", in Miami, Florida.
"That was the first time I actually went and when I played the Bahamian National Anthem for like two thousand people, the response I got really freaked me out. That gave me goosebumps," said DJ Tank.
DJ Tank is a full time deejay and he said he is also looking to venture out a little more.
"I don't care if you are popular now, someone years from now is coming to replace you. So right now I am just taking it one day at a time. But for a long term affect, I want to pass my knowledge on to someone after me, to keep my name ringing the way my dad did to me. That is why he is so popular and even the younger deejays still know him. You cant keep knowledge in a box. It is impossible," said DJ Tank.
He said his father always told him to strive to be different and never short cut himself just to make a dollar.
"I acknowledge God for giving me the strength and ability for my talent and my support team, my mother Desha Hanchell. Without God opening the door for me, I wouldn't be the man I am today, so I have to give him praise. My favourite selector is my brother, "Lil Dwight", He is like my shadow; every time you see me, you see him," said DJ Tank.