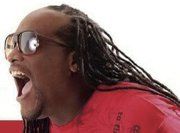 By FARAH

Tribune Features Writer

jgibson@tribunemedia.net
ALONG with the release of his latest song "Let's Make Love", reggae artist Mdeez has also put together an extended play album just for his fans.
"The Musical Doctor" was a not a planned project, however to the request of hardcore fans, the artist decided to produce an album. 
The extended play album was spur of the moment project, said Mdeez. It is a compilation of previously released hits including, Let's Make Love, Thanks For Leaving, Bounce, Love Is, Without You, Summer Bubble, and a bonus Wine For Your Man.
Mdeez said it was never his intention to release an album because his focus has been more on releasing singles and performing. But after being constantly asked by fans about an album he decided to put some of his top hits on The Musical Doctor.
"Music is all I do. I have no other side job. One would be foolish to see an opportunity to make money in their career and not take that opportunity. In this market we all know album sales is taking a major whipping because of the digital world. The only way we make money is through the shows. But during the last few months people were always asking where is the album," he said.
The Musical Doctor is not available in stores. Fans can contact Mdeez directly to purchase a copy.
"I decided to invest a little bit of my music money just to this particular project. I found that selling it myself has been more successful than any other route because people see me online, they let me know that they want a CD. It also gives a personal touch especially to the real fans out there. For me to come to your house and give you a CD you can let me sign that right there for you and that is a special feeling," he told In Ya Ear.
"I did not choose to do a (long playing album) because I am very particular with the music that I put out. I look at this as my brand, and I could have easily gripped about 14 songs, but I wouldn't do that to the people. I was tempted to release the lost files of Mdeez. I would not do that to my fans because the level I am at right now I always want to give my fans something new. What is past is past," he said.
Let's Make Love is currently circulating the airwaves and is centred around relationship issues. This is not the first song where the artist makes relationships a subject in his music.
"People always ask where does my inspiration come from. It comes from the rhythms and what I feel at that time. I let the beat take me to where the song is supposed to be. I could write without the beat, but with this kind of music I just allow the rhythm to take me where it needs to be. I try to bring out situations that I know people can relate to," he said.