By LAMECH JOHNSON
Tribune Staff Reporter
ljohnson@tribunemedia.net
SIMEON Bain spent three hours yesterday attempting to convince a Supreme Court jury that he did not seduce, kidnap, rob or kill a fast food restaurant manager in 2009.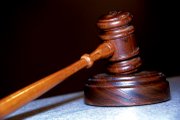 Bain, who chose not to be represented by counsel in his murder trial, told the jury during his closing address that the prosecution had not proved anything with the evidence they presented and further called the integrity of their key witness into question.
However, prosecutor Darnell Dorsett told the jury Bain did not challenge any of the evidence of that witness, who was Bain's former girlfriend.
Today, following Justice Indra Charles's summation of the evidence, the 12-member jury will be excused to deliberate on the charges 41-year-old Bain, of Joe Farrington Road, faces in connection with the September 19, 2009, death of 21-year-old Rashad Morris.
Morris was kidnapped from the Charlotte Street branch of Burger King and taken to the Tonique Williams-Darling highway branch, where he had been the manager.
He was ordered to open the safe. After failing to do so, he was stabbed in the restaurant's parking lot.
Bain denies charges of murder, robbery, attempted robbery, housebreaking, and kidnapping.
Bain's defence started with a replay of security footage of the incident, which he questioned.
He then said that with regard to his girlfriend's evidence to the court at earlier hearings, she "spoke a lot of hearsay".
Bain asked the jury to recall that the woman could not recall the surname of her own cousin.
He suggested that her denial of their relationship discredited her as a credible witness - because she testified that not only did they exchange numbers after he "blew a kiss at her" but she then lived with him in his mother's house.
She had said Bain was with her when she had a conversation with Morris. Bain claimed yesterday he could not have been with her when she had that conversation because she was in Freeport and "I was in Nassau".
"She didn't come back until the end of April," he said.
He told the jury that they had seen the woman admitting to being mixed up about a visit she made to Morris.
"Someone speaking the truth wouldn't get mixed up. Someone telling lies would get tangled up in their lies," he said.
Bain said that on the day of the murder he had reported his car stolen to police and on December 31, 2009, he claims he was called into the Central Detective Unit where he was "beaten" into confessing to the murder.
He referred to the testimony of the female witness that she saw him on the ground in the CDU, and he said it was "against policy rules" to have a person on the floor unless they were in a cell.
Bain told the jury they should not accept the record of interview that police claimed he gave them.
Prosecutor Dorsett asked the jury to note that Bain never refuted any of the woman's testimony during cross-examination.
The woman had said Bain was right handed, said the prosecutor, who referred to the evidence of pathologist Dr Caryn Sands that injuries of the nature inflicted could've only came from a knife but that the person who slashed Morris's throat was right handed.
Bain also had phone records produced which showed no communication or transactions between the numbers registered in his name with the number registered to Rashad Morris.
The prosecutor noted yesterday that while those registered in his name didn't show any such communications, she submitted that he was distancing himself from an unregistered number that is on the same phone records.
"He's a smart fellow. He didn't want to be tracked because he knew what he was going to do," the prosecutor claimed.
The prosecutor dismissed Bain's claims that police were conspiring against him and that they beat him into giving them a detailed record of interview on December 31, 2009.
She said that while the witness did see Bain on the ground, "she told you she didn't see police hit him or that he complained to her about being beaten."
Justice Charles begins her summation of the evidence at 10am.