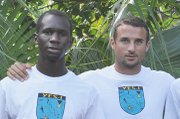 By RENALDO DORSETT
Sports Reporter
rdorsett@tribunemedia.net
TWO young soccer players have capitalised on the opportunity of a lifetime and begun a path toward a professional career with an international club.
Perry Brooks and Duane Beneby were selected to the Dayton Dutch Lions FC Super 20 League squad, in the second season Youth Empowerment through Soccer International (YESI) has facilitated the relationship between the two organisations.
Brooks and Beneby, both members of the COB Caribs soccer team, are scheduled to travel to Houston today to immediately join the Lions in preparation for the season.
The Super-20 League is the longest standing and most sophisticated under-20 men's and women's North American amateur league. It provides the platform for top 17 to 20-year-olds in the US and Canada to compete at the elite level while serving as a reserve team system for many W-League, PDL and MLS teams.
The USL Super-20 League features teams competing in the summer months, traditionally beginning in May and ending in late June.
For Beneby, his selection was a product of the improvement in his game since YESI first hosted the scouting drive just over a year ago.
"It's a huge opportunity to be afforded the chance to play at an elite level against players from around the world, it means a lot to me. I have been playing in the Bahamas most of my life so getting this exposure, it's something I have to take advantage of," he said.
Beneby, who plays defender and midfielder, said he has seen the impact the training sessions have had in the rapid development of his game.
"I worked on all parts of my game but made it a point to focus on my weaknesses, such as getting stronger with my opposite foot. I knew I had to continue to work harder at getting stronger," he said. "It has assisted in my development as a player. Now to have a hands-on playing experience and at such a high level, I'm looking for that improvement to continue."
Brooks, who plays right wing/striker was selected to the Lions squad for the second consecutive season. He added that the experience has given him greater confidence on his way to the next level.
"This opportunity means a lot to me because the exposure and high level training can only help with my progression in soccer. This past year has helped tremendously because the consistent training sharpened my skills and made me a stronger person and player," he said. "I definitely feel like I have gotten stronger, faster, smarter and have a better sense of what to expect in terms of the speed of the game."
Brooks has worked as a coach in the YESI youth development programme as the organisation launched its pilot programme at the Gambier Primary School.
YESI founder Happy Hall said the performances of the players last year and again this season can be a major factor in opening doors for other Bahamian players in the Super 20 or other professional leagues.
YESI is a non-profit organisation founded with the goal in mind of creating opportunities for underprivileged children to experience the benefits of organised sports through soccer programmes.
These programmes are intended to foster the development of life skills through teamwork and perseverance while building relationships and confidence amongst peer groups.
In addition, they aim to give student athletes every possible opportunity to pursue their dreams through soccer on an international scale.
Persons interested in assisting YESI or the players in their progression with the Lions can contact YESI at happyfeetsoccerclinic@gmail.com