By LAMECH JOHNSON
Tribune Staff Reporter
ljohnson@tribunemedia.net
A DISMISSED policewoman was denied bail in her $64,000 cocaine seizure court case yesterday after being deemed a flight risk.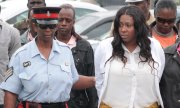 However, former constable Toni Sweeting, 27, of Coral Harbour, intends to appeal Senior Justice Jon Isaacs' decision to refuse her bail, even though a $21,000 bond was granted to her brother and co-accused, 33-year-old Delano Sweeting. Her attorney for yesterday's bail hearing, Jomo Campbell, said he planned to appeal the decision on the former constable.
On April 22, the former officer and her brother, a pageant coach and franchise owner, faced the following charges in connection with a cocaine raid at Lynden Pindling International Airport: Taking preparatory steps to export dangerous drugs, possession of dangerous drugs with intent to supply, conspiracy to export dangerous drugs and conspiracy to possess dangerous drugs with intent to supply.
It is claimed they committed these crimes on April 19 along with 33-year-old Jamaican national Conrad Campbell of Coral Heights Estates who arraigned a week later.
The Sweetings denied the charges and pleaded not guilty.
Delano Sweeting has been granted $21,000 bail with two sureties and three days of reporting to the police station.
Mr Campbell said Sweeting's sister was willing to abide by any conditions.
"Persons have been granted bail for larger quantities of alleged dangerous drugs so we do intend to appeal in the Court of Appeal," he said.
He said the appeal against the decision not to bail her would be filed immediately.