PLP chairman Bradley Roberts has accused FNM leader Hubert Minnis of being "wishy washy" over the issue of Bahamians and gambling.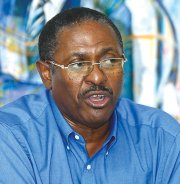 Mr Roberts said: "The public will recall that I recently advised them to dismiss Dr Minnis as a clueless interim leader who is out of his depth on national issues and brings no value to the public discourse because of his deftness at engaging in the wrong conversation.
"Since Dr Minnis believes Bahamians have short memories on his flip-flopping ways on the issue of gambling for Bahamians, it is my public duty to remind them.
"The record showed that on August 20, 2012, Dr Minnis was quoted as saying 'I have nothing against individuals gambling in terms of lottery, buying numbers etc'. He also indicated that he would vote in favour of legalisation of the numbers industry.
"He later said 'I have said on numerous occasions, we do not intend to tell people how to vote. Every Bahamian should be guided by their conscience'.
"And lo and behold by January 16, 2013, Dr Minnis had made a 180 degree turn on the issue and said that '... the Free National Movement has concluded that it will recommend that the Bahamian people vote NO on question number one. With respect to question number two, while the Free National Movement in principle supports the establishment of a wholly state-owned national lottery... We will recommend to the Bahamian people that they vote NO on question number two'.
"His record is clear and the entire Bahamas knows Dr Minnis very well now. Dr Minnis has no credibility as a leader and his word cannot be trusted."
Mr Roberts said Dr Minnis was now publicly saying 'yes' to casino gaming and that he wants 'fair play' for Bahamians. "This is just three months after he was front and centre in a 'NO' vote campaign that would lead to discrimination against Bahamians from ownership and participation in the gaming industry as a consequence," said Mr Roberts.
Mr Roberts said the Christie government had been open, honest, consistent and fair and had demonstrated courage, character and strength in the face of 'bogus' and 'intentionally misleading' statements from the FNM on issues including gambling, Bahamianisation and work permit policies.