By BRENT STUBBS
Senior Sports Reporter
bstubbs@tribunemedia.net
A "rift" has split up the executive board of the Bahamas Association of Athletic Associations with three members ousted by a "vote of no confidence" at a duly publicised and constituted Extra Ordinary Meeting.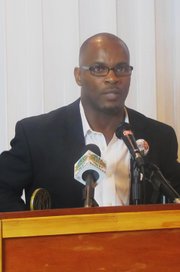 But during a press conference on Wednesday, the three members - first vice president Iram Lewis, secretary general Carl Oliver and Harrison Petty,  a representative on the Executive Board in his capacity as president of the Bahamas Parents Association for Track and Field Athletes, said they have been "unconstitutionally" removed from office and they intend to remain on board.
"As general secretary, I informed the president that there was no authorisation from me to give notice to the general body to attend this meeting that was called by Cyprian Strachan, which was unconstitutional," Oliver said.
"Unfortunately, the president, Mike Sands, thought otherwise, so he unilaterally went out and issued a notification that he sees no reason why the meeting should not be held. We have no objection conveying the meeting with Dr Strachan to hear what his concerns were in moving the BAAA forward. Unfortunately, we were informed last night (Wednesday) that when members got to the meeting, that the meeting took a different angle. They decided to put in a vote of no confidence in us, which was clearly unconstitutional. We are here to let the people know that we are still in the BAAA and we will continue to attend all of the executive meetings and all of the general meetings and voice our concerns."
As one of the top sporting bodies in the country, Oliver said it's unfortunate that the BAAA has come to this, but he knows that there are still a lot of persons within the organisation with integrity to ensure that the association moves forward and they will be there to make their contribution.
Lewis, who eventually was nominated by the BAAA and elected to serve as a first vice president of the Bahamas Olympic Committee, said with a general meeting and an executive meeting coming up next week, he would have hoped that any pressing issues would have been dealt with then.
"I also made a suggestion several weeks ago that the various parties within the BAAA - the Coaches Association, the Parents Association and the Executive Board - meet in our various groups and decide the best way we can move forward and then we can all come back together in a conclave," Lewis said. "That was pushed aside. What happened last night was very unfortunate. I'm sorry for those who have lost their positions in November, they must realise that they canw not put the BAAA and the athletes on the collation list. That is what they have been doing. Since the elections, we have made some positive strides and I want to thank those persons who have nominated and assisted me in getting elected as a vice president of the Bahamas Olympic Committee."
With so many things around for the BAAA, including the National Open and Junior Championships and the five international meets that they have to prepare athletes to compete in, Lewis said it's unfortunate that the BAAA came down to this.
"But there is hope. There is always tomworrow," he said. "We will continue to operate in our capacity and we hope that those persons who have the best interest of the organisation at heart, will join us in moving the organisation forward in the direction that it needs to go in."
Additionally, Petty said it's disappointing with the Parents Association trying to obtain athletic scholarships for the deserving athletes that they are faced with this dilemma.
"However, it's understandable. We had some big changes in the executive body in November, large change in the representation at the BOC level from president Sands to now first vice president Lewis as our representative and massive change in the representation in the coaches association with Dianne Woodside no longer the president and Curtis Pride is now the president," Petty said.
"However, in the Parents Association, this is now May and we are in charge of the scholarship search. Right now we are attempting to locate scholarships for 20 track and field athletes. On May 20, two of our representatives, Peter Pratt and May Miller, will be going to Illinois to the NAIA Championships to meet coaches and athletic directors to introduce our athletes on paper to help obtain scholarships for them."
Also, Petty said Bernard Newbold, who is in a junior college, will be going to the Junior College Nationals with the view of securing scholarships for those athletes who qualify.
"We are also working with the Ministry of Sports to help us with some funding because the NAIA don't give full scholarships, so we have to make sure that the athletes are not sent home because their parents don't have the funding."
With so much work to do, Petty said it's so discouraging that persons who have lost power are trying to deny those persons who are in power to be able to do what they have to do.
"However, I want to assure parents that the scholarship committee is still on the BAAA board and we are going to proceed with our scholarship search as usual," he said. "All kids who are athletically and academically eligible will be going off to school, either in August or January. The work will continue. We will not let a few persons spoil the future of our youth."