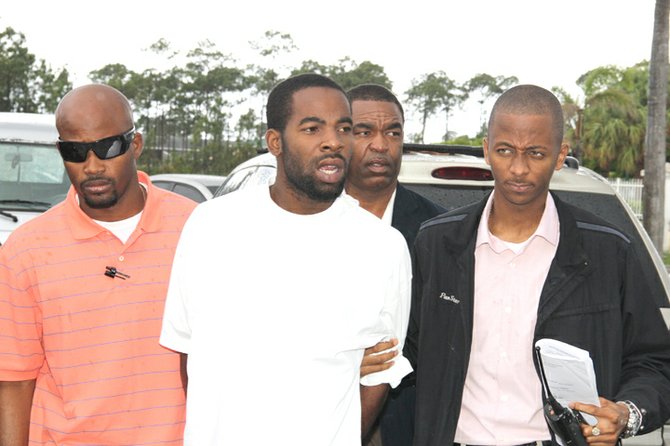 By DENISE MAYCOCK
Tribune Freeport Reporter
dmaycock@tribunemedia.net
DAVID Alexander Stuart, 22, has been charged with murder in the death of his two-year-old son.
Stuart is accused of causing the death of his son, Peter Higgs, also known as Peter Burrows, by means of unlawful harm on April 28, at Freeport, Grand Bahama.     
He appeared in court two before magistrate Andrew Forbes in Freeport Magistrates' Court yesterday.  He was not required to enter a plea to the murder charge.
According to reports, police and EMS personnel were called on Monday evening to a residence at Magellan Crest for assistance.
On arrival, they found a two-year-old toddler unresponsive.  The child was taken to the Rand Memorial Hospital, where he was pronounced dead.
The toddler's mother Ranique Burrows, and grandmother Rochelle Higgs, and a number of persons gathered at the rear of the court house around 9.30am for Stuart's arrival.   
Stuart was transported to the courthouse under heavy police guard.
As he exited the police van, Rochelle Higgs shouted to him "I love you David."
At his arraignment, Stuart broke down in tears and whispered a comment to the toddler's grandmother, who was sitting at the back of the courtroom.
Stuart was represented by attorney Brian Hanna. He was denied bail and remanded to custody at Her Majesty's Prison.
Magistrate Forbes told Stuart that he may apply to the Supreme Court for bail.
He adjourned the matter to August 19 when a preliminary inquiry will be held to determine if there is sufficient evidence against Stuart to stand trial in the Supreme Court.
After the arraignment, Ranique Burrows spoke with the reporters outside the courthouse. 
She said she was grateful for the time she had spent with her son, Peter.
"Please, parents listen… don't force your children to go with nobody they don't want to go to," she said.
"Please, watch your children; be careful who you leave your children with. If you are a teen mother like me, partying ain't it. You need to take care of your child. I never partied… after I had Peter; I watched and take care of my child and this still happened - but I thank God for the time I spent with my baby," she said.
Her mother, Rochelle Higgs, described her grandson as a sweet and caring little boy.  
"I took care of him most of the time because (my daughter) was a teen mother," she said.
Ms Higgs said children should speak up if they are being mistreated.
"We want to go to the schools to talk to the children because so many children are being abused out there.
"This is a lesson to us.  Peter is well now; he is resting with God. And I want the Bahamas to pray for peace for our family," she said.