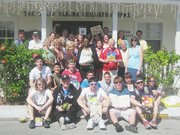 Freeport, Bahamas – While cruising through the Bahamas on their senior class trip, students of Laurens Central School in Laurens, New York took time to visit Grand Bahama Children's Home with suitcases full of gifts for the children.
"While planning our senior class trip, our students wanted to include a community project," said School Superintendent Romona Wenck.

"I spoke with Karen Seymour, at the Ministry of Tourism, to get some ideas and she immediately suggested the Grand Bahama Children's Home. The students loved the idea because they would actually get to interact with the children."
Accompanied by parents, teachers and school board representatives, the students delivered toys, clothing, books, grooming tools and other items to residents of the home. They also joined in with the children in playtime, story time and arts and crafts.
The group arrived in the Bahamas on the Carnival Splendor.
Their transportation to the home was provided by the Ministry and the donated goods were duty-exempt thanks to the Minister of Finance.
"The Grand Bahama Children's Home wishes to especially thank the Senior Class of Laurens Central School and Romona Wenck for their generosity towards the home and its residents," said Sheila Smith, Executive Committee Memember, Grand Bahama Children's Home.
"It is with donations like these that the Home continues to operate and provide a safe haven for our less fortunate," Smith added.