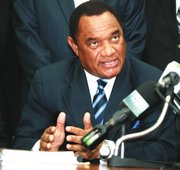 ON May 7, 2013, it will be one year since Perry Christie led the Progressive Liberal Party to victory in the 2012 General Election.
One year on, how has the new government fared?
The PLP made a number of promises, some of which were to be completed within 100 days, others due in the course of its term in office.
How has the government dealt with the big issues - the economy, crime, education, health, transportation and the digital age?
Immigration, the environment, National Insurance and taxation have all come under the spotlight since the election.
The new government kept its promises to launch Project Safe Bahamas and Urban Renewal 2; to create a Ministry of Grand Bahama, re-establish a Ministry of Financial Services and Investments and reduce Stamp Tax. It held a referendum on legalising web shops and establishing a national lottery.
Has the PLP delivered on its pledges over other issues?
In April last year, the now Deputy Prime Minister Philip Davis, told a rally in Hatchet Bay, Eleuthera: "Vote PLP. Vote for a PLP government that is ready to create 10,000 immediate new jobs for young Bahamians."
What has the record on unemployment been?
The Mortgage Relief Plan was launched but failed to help any homeowners facing foreclosure.
What happened to the opposition, the FNM and the DNA, in the wake of their defeat by the PLP?
We want to know your views on the government's successes and failures over the past 12 months.
If you have an opinion, post your comment below or email newsroom@tribunemedia.net and share your views.