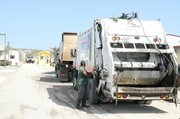 By RASHAD ROLLE
THE relentless City Dump fire, which continues to affect those who live around Tonique Williams Darling Highway, is expected to be fully extinguished by Thursday according to Melanie McKenzie, director of Environmental Health.
Fire fighters have struggled to contain the fire, which began on April 19, because its flames were fuelled from beneath the surface by a variety of highly flammable material, including propane tanks, cardboard and cloth.
Ms McKenzie said the smouldering which continues at the site of the fire should soon cease.
"Thursday is the day we anticipate having no smoke unless we have some calamity," she said.
Ms McKenzie also said efforts to determine if toxic chemicals have been released by the fire are ongoing as the report containing the results of tests conducted around the area has not yet been completed.
Just last year, fire officers fought to contain another major blaze at the dump, which has been plagued by recurrent fires for years.
Opposition leader Dr Hubert Minnis recently lamented the health risks the fires pose to those who inhale the fumes, saying: "The smoke is bad for so many reasons. There are a lot of individuals with medical allergies and it can also cause bronchitis and other respiratory problems."
It has been debated whether the dump should be relocated given the major fire hazard that it has become during the last decade.
However, Environment Minister Ken Dorsett told The Tribune that his government does not plan to relocate the dump. He said he is hopeful that financial resources will be allocated toward permanently fixing the problem during the next budgetary cycle.
"The landfill remediation is going to be top of the agenda going into this budgetary cycle and I will speak clearly to the Bahamian people about it in this upcoming budget," he said.