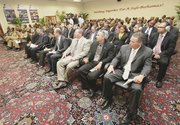 By Rupert Missick Jr
BAHAMIAN and Interpol officials opened a two-week training programme yesterday that is expected to enhance the investigational skills of law enforcement personnel in the interdiction of criminal organisations involved in counterfeiting, money laundering, human smuggling and the trafficking of illicit goods, weapons and drugs,
The 6th Session of Interpol Capacity Building Training in the Fight against Drugs and Organised Crime was officially opened at the Paul Farquharson Conference Centre by Minister of National Security the Dr Bernard Nottage, Commissioner of Police Ellison Greenslade and the Director of Capacity Building and Training Directorate at Interpol, Dale Sheehan.
The course comprises of 20 participants, 17 of whom are from Latin American and Caribbean countries and three from the Bahamas. Interpol is the world's largest international police organisation, with 190 member countries.
Mr Greensalde said the RBPF was delighted that Interpol had selected the Bahamas as the venue to host this very important training course. He said that the launch of this training initiative here in the Bahamas, was another clear indication of Interpol's commitment to capacity building in police forces worldwide.
"It fulfils an urgent need to further sensitise and train police officers and law enforcement partners to effectively deal with emerging global threats such as trafficking in persons, human smuggling, trafficking in illicit goods, weapons and drug trafficking, counterfeiting and money laundering, and a long list of other crimes. All of these crimes fall within the criminal purview of organised crime groups. The focus for the next two weeks, therefore, will be on organised crime, its significant global reach, and effective law enforcement intervention," the Commissioner said.
Mr Greensalde said the 190 countries linked through Interpol's secure communication network represent a formidable arsenal of law enforcement databases and tools which gives officials, across the globe, the ability to interdict organised crime wherever it occurs.
Many successful operations have been launched because of the work of this course over the years.
Mr Sheehan pointed to the success of February's Operation Ice Breaker which netted more than 360 tons of chemicals, 200 kilos of methamphetamine, cocaine and LSD, and $2 million in cash.
Operation Ice Breaker was an Interpol-led operation combating methamphetamine production and smuggling across the Americas.
It involved 11 countries across the region. The operation – which was run in partnership with the World Customs Organisation (WCO) and the International Narcotics Control Board (INCB) – also focused on developing inter-agency co-operation at the national and regional levels.
Mr Sheehan said that Interpol is planning a similar operation for the Caribbean, code named Operation Lion Fish.
The presence of Interpol officials in the Bahamas, Dr Nottage said, was clear evidence of the determination of all participating countries not just to fight the menace of transnational organised crime, but to fight and win the upper hand.
"We should not for one moment underestimate the scale of the continuing drug problem and it is not only the personal tragedies which illegal drug trafficking causes, heart-rending as they are. In some parts of the world, drugs have become a fundamental part of the economy.
"There are groups — not just the drug barons, but growers and middle-men, who do not want us to succeed. They are determined to go on pouring drugs on to the world market through established channels and through new ones," Dr Nottage said.
The Minister said that international co-operation to address the global drug problem is founded upon the principle of shared responsibility, a mutual commitment to common goals and commitment to complementary policy and joint action.
"Drugs can and does flow across borders and between continents, from producer to trafficker, from one society to another, and from trafficking to abuse," Dr Nottage.
Organised crime has diversified, gone global and reached macro- economic proportions: illicit goods may be sourced from one continent, trafficked across another, and marketed in a third. The transnational nature of organised crime means that criminal networks forge bonds across borders as well as overcome cultural and linguistic differences in the commission of their crime.
"Organised crime is not stagnant, but adapts as new crimes emerge and as relationships between criminal networks become both more flexible, and more sophisticated, with ever-greater reach around the globe," Dr Nottage said.