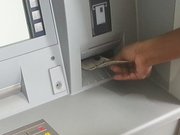 Bank of the Bahamas International is moving to consolidate its market position as an innovator through becoming the first institution to accept non-envelope cash deposits at its Automatic Teller Machines (ATMs).
Previously, when funds were deposited in envelopes, they would sit in the ATM until a bank employee manually extracted them, counted the money and then applied them to the correct account.
But, with BOB Express ATMS, cash is now inserted directly into the machines without envelopes, is automatically counted by the machines and immediately credited to the customer's account. This makes funds available to cash cheques, pay bills or fulfill other financial obligations.
"The new advanced technology is amazing. It's fast and efficient," said Ian Thompson, senior manager for marketing and sales at Bank of the Bahamas International.
"There is no time lag because non-envelope cash deposits are now credited in real time, and this means our customers can do a variety of transactions at the ATM that were not previously possible.
"They don't have to wait for the bank to open or stand on a line. They can bank whenever it's convenient for them and enjoy immediate access to their funds. This is our goal: to make it increasingly easier for customers to transact business with us, and that is why we have made a substantial investment in our ATMs."
In addition to non-envelope cash deposits, customers can now use the bank's Express ATMs to make non-envelope check deposits, for which they will receive images of the deposited cheques printed on their receipts.

They can save money by loading prepaid cards instantly, and even pay their credit cards. All cheque deposits and payments are subject to normal bank procedures and clearing timelines (a three-day holding period), but non-envelope cash payments are immediately credited to accounts or card balances.
BOB Express' new features are available at all five Nassau branch ATMs in English, Creole and Braille. These services are not available at off-site ATMs, such as at Lynden Pindling International Airport (LPIA), Arawak Cay and Phil's Food Services.