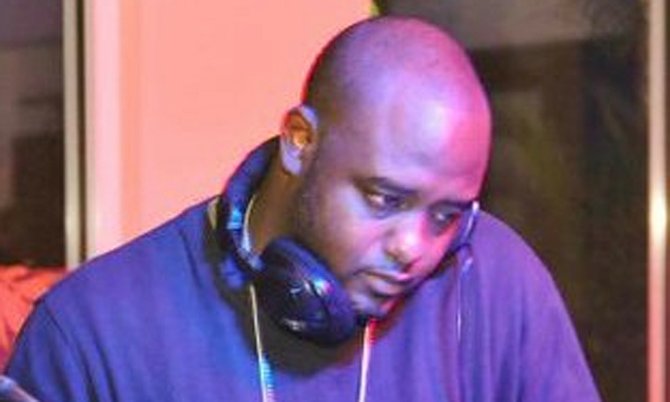 By LESH
Tribune Features Reporter
acadet@tribunemedia.net
MUSIC and Entertainment is not something he looks at as a hobby anymore. For Mista Xcitement it is a profession that he takes very seriously.
No one just makes the decision to become a deejay. The drive and inspiration has to start somewhere. Xcitement's push came at the age of 13, when he fell in love with music.
Growing up in the church playing the drums, Xcitement said he learned to manipulate the art of music.
During the 90s era, he said he began deejaying at a nightclub called "The Colosseum," playing with Dion Da Butcha. Xcitement continued at the Coliseum, even after it took on its new name, the Zoo Nightclub. This is where his fan base and music skills grew.
He was a regular at the nightclub venue for about five years, but eventually ventured off and took his talents to another level, joining the 100 JAMZ team ten years ago.
He now holds the position as music director at Radio House and he is also featured as the Free Ride At Five deejay, airing Monday through Friday, 5:00 to 6:00 pm. He also can be heard on the station's Guinness Bomb session on Saturdays with DJ Fines and Joe Koolz.
Xcitement said winning the DJ of the Year award in 2006 was a big deal for him. After so many people told him music was not going to get him anywhere, he said he felt honoured to win the award.
"They said it wasn't a real career. I am my biggest critic and I always felt like everyone was so much into reggae and because I was into RnB, and Hip Hop, I thought that I'd never be considered one of the best deejays in Nassau. So it was a big deal to win," said Xcitement.
His famous name came after a night of playing at the Zoo, when he was approached by a woman who asked for the "exciting deejay" that played the night before.
"I told her it was a couple of us who played the night before, and she said no the exciting one. I asked her what song did he play, and it was a remix from a group called "Next." And I was the only person that had that mix so they pointed at me and everyone started calling me excitement, spelled Xcitement," he said.
Up until this day, Xcitement said he enjoys seeing people let go and have a good time when he is behind the deejay set.
"When you are in a club playing music and you could look around and not just see people dancing, but see into people, it's a good thing. When people come up to me at the end of the night and tell me that they had a great time, this is what keeps me going other than the love of music," said Xcitement.
He said he has had the opportunity of playing at venues in New York, Canada and Jamaica.
Often rated by a number of deejays in the Bahamas, Xcitement said this makes him feel proud and honoured as well.
"Like I said, I am my biggest critic and to this day I don't look at myself as a pioneer or someone who's been in the game for a long time, because I still get butterflies before I play and I still pray before I play. To hear that any other deejays look up to me, it's an honour," said Xcitement.
With his work, he said he is often inspired by deejays like Dion Da Butcha, the Mighty Pencil, Da Butler, DJ Fines and One Dwight, just to name a few.
"I take a little from each one of them and I incorporate it into what I do and I think that is why I've been around so long. Respect is everything and you have to respect yourself and others, especially in this game," said Xcitement.
Xcitement said he sees the entertainment scene heading in a good direction, only if deejays can assist in getting rid of the violence that usually goes on in night clubs.
"The deejay control the club and you have a lot of deejays that big up dudes from this area and that area, so I think if they are mindful of that and just be neutral, it can help. If you see a situation starting up, switch your music. I do believe that music can fuel energy that starts a lot of these fights because I have done it in the past and I've seen it done. Over the years you will learn that certain songs you play at certain times, can fuel bad energy," said Xcitement.